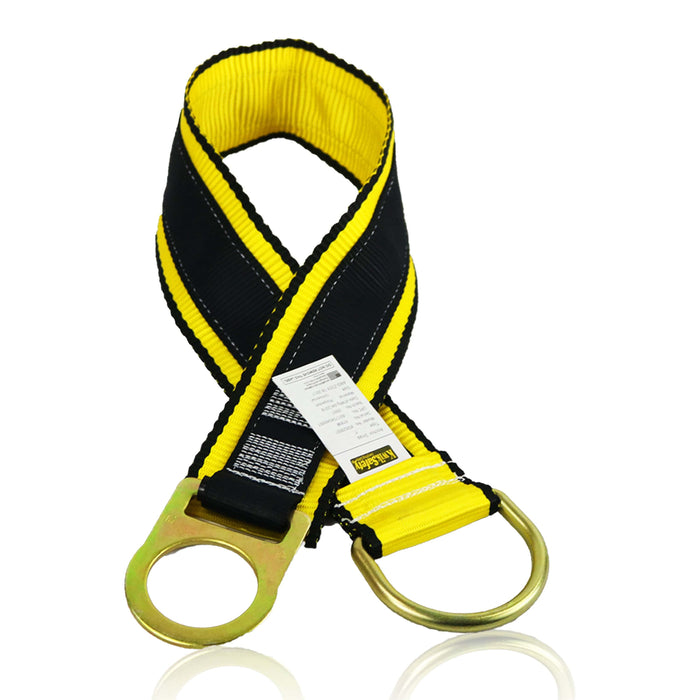 Description:
TECH SPECS - 3 foot long pass thru web anchor | Worker capacity is 310 lbs | Min. breaking strength is 5000 lbs | Anchorage equipment for a single user | The GIBBON GRIP cross arm strap is a premium fall protection tool / anchor strap with a large d ring connector | Web anchor fall safety equipment, the perfect high rise guardian.
ANSI & OSHA - The KwikSafety GIBBON GRIP meets and exceeds the requirements of ANSI Z359.18.2017 and OSHA. The KwikSafety Anchor tie off may be used in horizontal and vertical applications and is a web pass thru reusable anchorage connector designed to wrap around a static anchor such as an I-beam and other structure.
PERSONAL FALL ARREST SYSTEM (PFAS) - The KwikSafety cross arm strap is designed to be wrapped around structures such as I Beams, Web Trusses, Concrete Beams and many more to form a secure anchor point. Once connected to a secure anchor point, connect the KwikSafety cross arm strap small D ring with any of the following compatible fall protection tools: harness, lanyard, SRL (Self Retracting Lifeline) or a vertical lifeline.
HOW TO USE - The KwikSafety GIBBON GRIP Anchor Strap should ideally be mounted to an overhead structural member, or rigged in a manner such that Free Fall is restricted to no more than 6 feet. Slings may be used mounted to a rated structural member provided that the Free Fall is restricted to a maximum of 12ft, and the Sling Anchor is not exposed to any sharp, jagged or abrasive edges or surfaces.
TYPICAL USES - The KwikSafety GIBBON GRIP can be used for many small/light and large/heavy duty uses in residential, commercial and industrial markets such as: construction, roofing/roofer, aerial lifts, scaffolding platforms, fall protection kits, guardrails, lanyard extension or anchor to a beam, swing hanging, tire swing, tree trimming, arborist, zip line and many more!
Kit & Combo Option Savings
COMBO (SAVE $5)
Cross Arm Strap + Safety Lanyard
KIT (SAVE $10)
Cross Arm Strap + Safety Lanyard + Safety Harness
ASSEMBLY (SAVE $10)
Cross Arm Strap + Safety Lanyard + Safety Harness + 10FT Safety Lifeline
 ----------------------------------------
SAFETY LANYARD

 

- 

The RATTLER is a single leg, heavy duty, high performance safety lanyard that meets and exceeds ANSI Z359.13-2013 standards. Be seen and be safe with the fluorescent yellow polyester webbing. Use with compatible fall protection safety harness, free fall (FF) lanyards, energy absorbers, lifelines, and anchorage lanyards.
SAFETY HARNESS -

You're ready to work hard up high right off the bat with KwikSafety's SCORPION Fall Protection System. The integrated single-leg lanyard and snap hook attached to the safety harness give you a complete safety package that's ready and proven to perform in the worst-case scenario. The internal shock-absorbing lanyard makes the SCORPION a more lightweight fall protection device. A dual-action, double-locking snap hook prevents accidental rollout while remaining easy to latch on to your anchor point. Tensile strength (max load) for the snap hook is rated at 5,000 pounds with a gate strength of 3,600 pounds. Meets American National Standards Institute (ANSI) Z359.12 standards.
SELF RETRACTING LIFELINE 

-

 The KwikSafety COBRA 10 ft Single-Leg (Class B) Self Retracing Lifeline has a durable ¾" polyester webbing line and is easy to carry because of the lightweight & durable polymer housing. The quick brake system will catch you in what feels like a nano second and the external shock absorber will instantly release from its heavy duty plastic casing to reduce acceleration and ease impact with an average arresting force of 900 lbs.