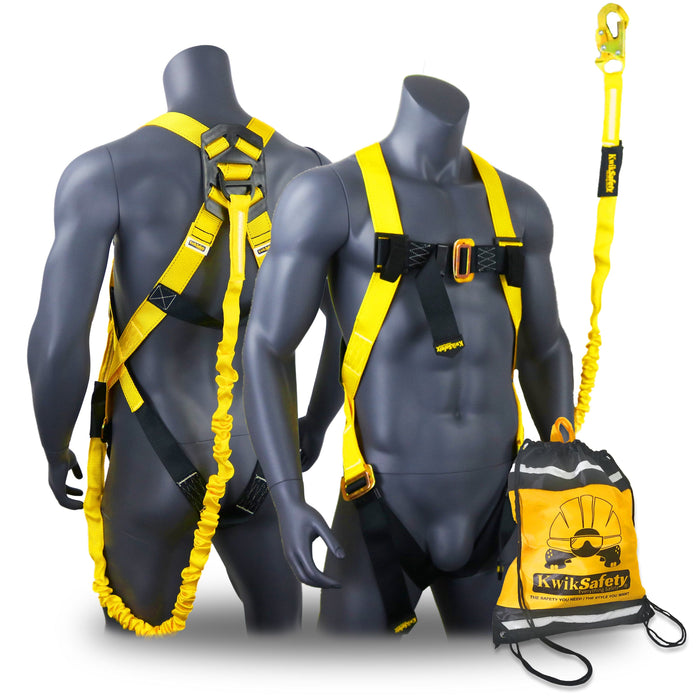 Description:
FULL ON FALL PROTECTION - You're ready to work hard up high right off the bat with KwikSafety's SCORPION Fall Protection System. The integrated single-leg lanyard and snap hook attached to the safety harness give you a complete safety package that's ready and proven to perform in the worst-case scenario.
GET HOOKED - The internal shock-absorbing lanyard makes the SCORPION a more lightweight fall protection device. A dual-action, double-locking snap hook prevents accidental rollout while remaining easy to latch on to your anchor point. Tensile strength (max load) for the snap hook is rated at 5,000 pounds with a gate strength of 3,600 pounds. Meets American National Standards Institute (ANSI) Z359.12 standards.
WE MET THE STANDARD, THEN ROSE ABOVE IT - ANSI/ ASSE Z359.11-2014 -- All of KwikSafety's full-body harnesses have undergone the "Qualification and Verification Testing of Fall Protection Products." The SCORPION System exceeds the already-rigorous ANSI testing standards and is heavy-duty, high-performance fall protection you can trust to have your back. View the Compliance Label/ Safety Label for more information.
PROPER FIT, PROPER PERFORMANCE - Correct fit is essential for proper performance. Our KwikSafety SCORPION full body harness and lanyard system supports users within the capacity range of 130 to 310 pounds (59 to 140 kg). To ensure proper fit, see that all buckles are connected and aligned, leg and shoulder straps are snug, and chest straps are in the center of the chest area.
OSHA APPROVED - The Occupational Safety & Health Administration assures men and women safe and healthful working conditions by setting standards and providing training, outreach, education, and assistance. A personal fall arrest system is required when working 6ft. or more above lower levels. The SCORPION System is ideal for construction, arborist work, high-rise window cleaning, gutter cleaning, roofing and thatching, and Search and Rescue.
Kit & Combo Option Savings
COMBO (SAVE $5)
Safety Harness + Roof Anchor + Tool Lanyard
KIT (SAVE $10)
Safety Harness + Roof Anchor + Tool Lanyard + Cross Arm Strap
 ----------------------------------------
REUSABLE ROOF ANCHOR

 

-

The GATOR temporary reusable roof anchor comes with a single adjustable D-Ring for an easy range of motion, as well as an easy attachment with compatible fall protection harness, lanyard, ropes, lifelines, and other roofing equipment. Weather resistant so no worries about rusting if you leave the anchor bracket outside. With a minimum tensile strength of 5,000 lbs the GATOR is designed to be used by one person, a maximum capacity of 310 lbs (140 kg). 
TOOL LANYARD - 

The TENTACLE tool lanyard is designed for light duty uses, namely hand tools and smaller power tools. The lanyard has a durable bungee strap with a cord stopper with a durable rubber base to secure tools. The anodized aluminum carabiner (does not rust!) is an easy quick snap clip. The Tentacle is third party tested to a max capacity of 20 lbs, resting length is 3ft and activated length is about 5 ft. 
CROSS ARM STRAP -

3 foot long pass thru web anchor | Worker capacity is 310 lbs | Min. breaking strength is 5000 lbs | Anchorage equipment for a single user | The GIBBON GRIP cross arm strap is a premium fall protection tool / anchor strap with a large d ring connector | The perfect high rise guardian watching your back, web anchor fall protection arrest restraint safety equipment.