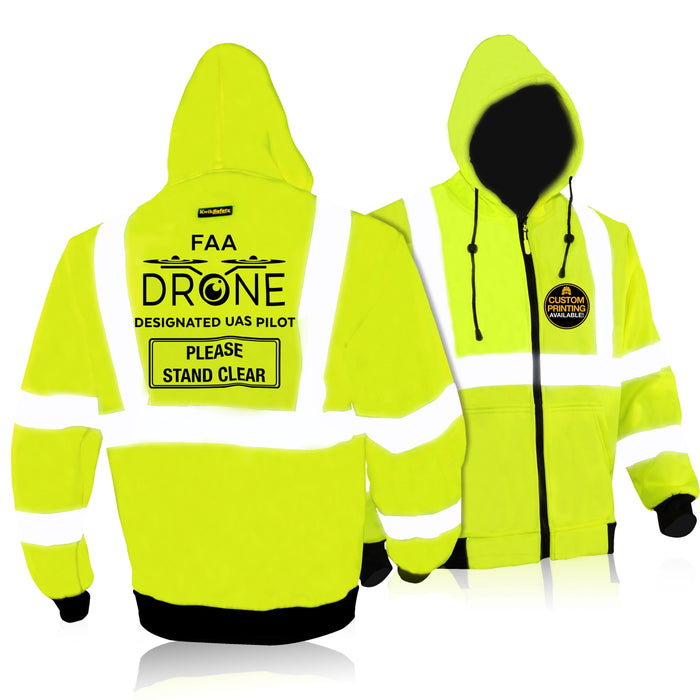 KwikSafety AVIATOR Drone Fleece Hoodie ANSI Class 3 Safety Jacket Anti-Pill
Sold out
Original price
$ 0.00
-
Original price
$ 0.00
Additional Options: 
MAXIMIZE SAFETY, MINIMIZE DISTRACTIONS - By simply putting on our KwikSafety AVIATOR Drone Safety Jacket you start a positive chain reaction. According to the Federal Aviation Administration (FAA), pilots shall wear brightly colored & reflective vests or jackets during flight operations to reduce the number of calls and distractions. Identification and warning against distracting the person shall be presented on the back of the jacket in clear, bold lettering.
LICENSE TO FLY - Being FAA Certified is just the beginning for our feature filled AVIATOR Drone Jacket. It's designed with a fluorescent yellow background material with retroreflective/combined-performance bands specifically placed to comply with ANSI standards. Both the fluorescent background material and reflective bands were tested by ISO.IEC 17025 accredited lab. Its Anti-Pill material doesn't affect the users adversely, is soft, and free of sharp edges that may cause irritation or injuries.
MULTIFUNCTIONAL SAFETY - Whether it's flying a drone or working on the construction site, don't entrust your safety with anything less. Our KwikSafety AVIATOR Drone Safety Jacket is perfect for all fields of drone operations. From simple flying drones for photography, videography, cinematography, landscaping, remote aerial surveying, package delivery, wildlife conservation, energy inspector, search and rescue, drone journalist, drone farming, police drone operator, property management, and more.
ANSI COMPLIANT - Don't entrust your safety to anything less. Crafted in full compliance with ANSI/ ISEA 107-2015 Class 3/ Level 3 safety jacket standards, our PATROL Fleece Hoodie is classified as Occupational HVSA for Roadway Use. Providing day and night visibility enhancement, our KwikSafety PATROL Fleece Hoodie can be used by roadway construction workers, utility workers, survey workers, forestry workers, school crossing guard, parking and tool gate personnel, and airport personnel.
PROPER FIT, PROPER PERFORMANCE - Correct fit is essential for proper performance; especially while operating a UAS (Unmanned Aircraft System). When flying, distractions should be to a minimum; whether it's from other people or attire. A size chart is available (located in on images) to ensure that our customers find the right size for them. Size charts are available in both inches and centimeters to maximize accuracy. We highly recommend using your shirt size as a reference.