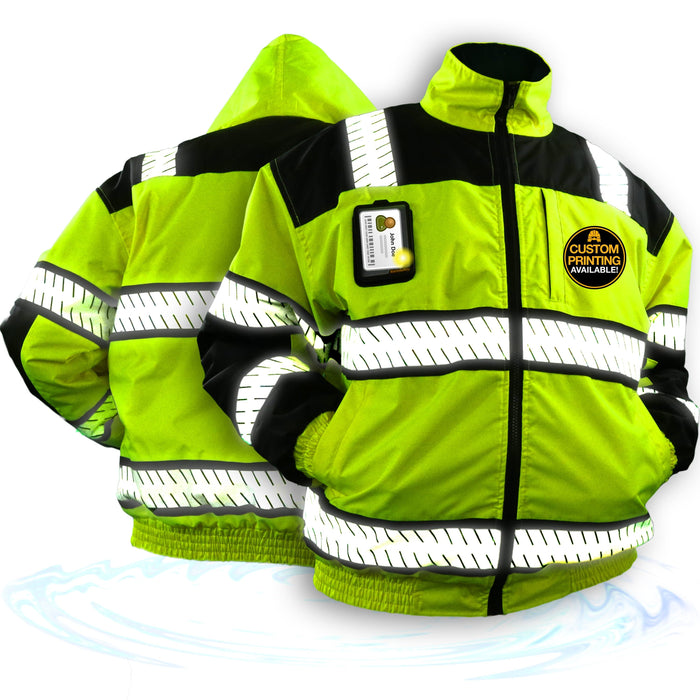 KwikSafety ENFORCER Class 3 ANSI Fishbone Reflective Tape Bomber Safety Jacket - Model No.: KS5501
Additional Options: 
ID POCKET & FOLDABLE HOOD - This high vis hoodie has 5 external pockets (2 chest, 1 arm, 2 side). Its clear and detachable chest ID pocket safely displays any credentials or work gear. The jacket's premium polyester helps keep you dry by withstanding heavy rain, wind and other weather. It has a soft, lightweight and foldable hood that tucks under the collar using hook and loop fasteners. This makes the ENFORCER the ideal men's safety reflective jacket for all of your high visibility rain gear.
WARM, COMFORTABLE & WATER RESISTANT - The ENFORCER is a heavy duty, high visibility safety jacket built with a durable, synthetic exterior and a warm, thermal interior. It is a water resistant (not waterproof), high visibility jacket that keeps you dry in rain conditions. This safety hoodie has adjustable, elastic wrist cuffs that allow you to move freely for a proper, comfortable fit. The fishbone, 2 inch reflective tape on its torso and arms allows for enhanced visibility during day and night.
FEEL THE DIFFERENCE - The ENFORCER is a hybrid high vis jacket that is designed to be tough and flexible enough to serve as a form of safety rain gear. Its exterior coats you in a heavy, windbreaker like polyester. This custom material was created to keep you safe and warm during all forms of construction (construccion) activities. Unlike other reflective jackets, the ENFORCER's fabric is insulated and adaptable, which allows you move around freely throughout the day without feeling constrained.
ANSI TESTED & OSHA COMPLIANT - This hi vis jacket (and most of KwikSafety's other safety jackets) is quality checked and tested by an accredited, 3rd party testing lab while other safety companies may not be; it's buyers beware. This hi viz jacket is in full compliance with ANSI/ISEA 107-2015 and serves as the ideal reflective coat for any project where OSHA compliance is required. This safety coat is machine washable and can be used as a construction jacket or for protective safety workwear.
SAFETY JACKET CHAMPION - With the ENFORCER, you'll become a pioneer of safety workwear and easily conquer any challenge you face! Utilize the coat of this reflective jacket with its unique hi vis hoodie and reflector tape to enjoy the Safety You Need with the Style You Want ™. Customization for any company name or logo is available (6 pieces min.). Our Charlotte-based team will quickly answer any and all of your questions and concerns about your order. ¡Hablamos Español (Chaqueta de seguridad)!