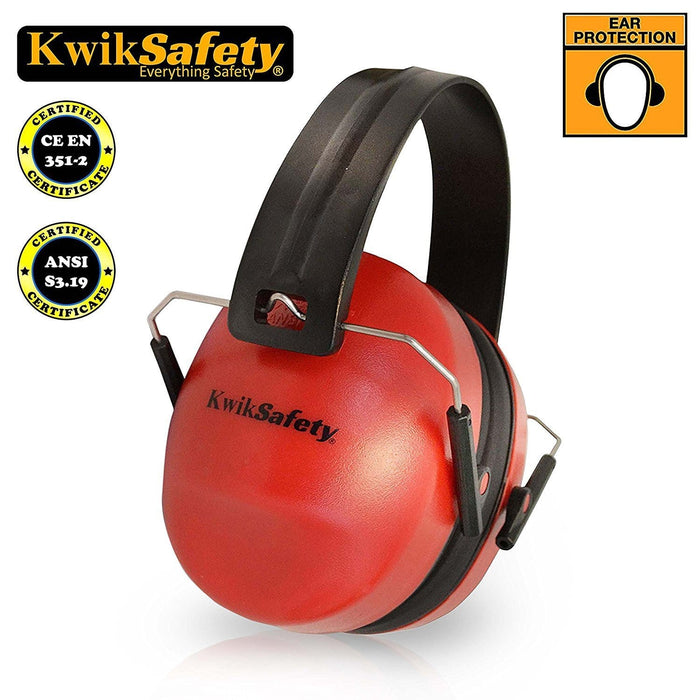 KwikSafety Sound Proof Ear Muffs
Sold out
Original price
$ 45.99
-
Original price
$ 45.99
The KwikSafety earmuffs offer the highest NRR (29 dB) for an earmuff on the market which makes them ideal for very high noise situations. The high attenuation delivered by the KwikSafety earmuffs is possible as a result of a combination of advanced technologies including: newly designed spacers, specially formulated ear cup liners and innovative foam contained in the cushions. The metal components of the headband have been covered by non-conductive material for use in a low voltage electrical hazard (less than 440 V ac). As there are no applicable standards for testing ear muffs against electrical insulating properties, the product has been evaluated at an external laboratory against a modified test method based on EN397:1995. During assessment, the leakage current did not exceed 1.2mA when the external surface of the product made contact with an electrical source. The NRR may overestimate the hearing protection provided during typical use. Hearing protection solutions made innovatively easy. The KwikSafety earmuffs are ideal for protection against noise arising from a wide range of applications in the workplace and leisure activity. Examples of typical applications include: metal processing, automotive, airports, construction, textile manufacturing, chemical and pharmaceutical, manufacturing, cement manufacturing, printing, woodworking, heavy engineering, foundry, steelworks, mining and quarrying. Headband and headband cover/sleeve: stainless steel wire, TPE, polyester, polypropylene, and acetyl. Hard hat attachment arm: stainless steel wire, acetyl, polyamide. Ear cups: ABS/TPU. Ear cup inserts: PU foam. Ear cup cushions and cushion covers: PU foam and PVC. Black color. Dielectric. Hearing protection style: over the head. Noise reduction rating: 31 decibel. Product type: earmuffs. Size: one size fits most.
PURPOSES: The KwiKSafety NRR 29 safety ear muffs are great for multiple uses including, but not limited to, noise reduction, studying, TSA or airport ground worker, shooting range, hunting, construction, concerts, yard work, demolition, racing, etc… This lightweight, foldable and adjustable ear muff is small and easy to carry in any bag, car, or truck.

CERTIFICATION: This safety ear muff is CE EN (European Standard) 351.2 and ANSI (American National Standards Institute) S3.19 certified. Never leave your home without it! A great tool to keep your ears safe from loud and unnecessary noises.

ALL AGES: Foldable for easy storage and portability. Adjustable, so they fit children as young as six months and as old as grandpa. The red cup color also helps you recognize from all other tools. The cups are padded with a snug reliable fit.

KIDS: The KwikSafety ear muff is always great for children to help reduce noise! With the adjustable band and snug fit ear cups, it allows children of all ages to keep their hearing in tact! They're powerful enough to block out the loudest noises.

DURABILITY: We at KwikSafety have designed our safety ear muffs to be durable through any uses. Whether you're doing lightweight or heavy duty activities, our safety ear muffs are an essential tool for your everyday use!