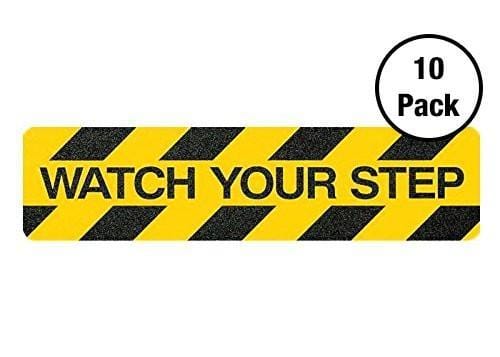 KwikSafety 6"x24" Black&Yellow Adhesive 'Caution' Anti Slip Tread Pack
SafeTraction Black and Yellow "CAUTION" stripe treads have become the standard in the Recreational Vehicle industry. These treads were specifically designed for poorly lit areas, like RV steps and basement stairs. The mineral abrasive formula adds stability to footing and the built-in reflective stripe defines the edge of each step or work platform. SIZE: 6" X 24" Pre Cut Treads.
Adhesive tread with black and yellow stripe for improved visibility

Use on stairways, ladders, poolside steps, boat decks, workshops and trailers

Strong adhesive resists cracking and peeling, UV resistant

Excellent in poorly lit areas promoting anti-slip safety and visibility

Apply to smooth surfaces and avoid all grout lines.