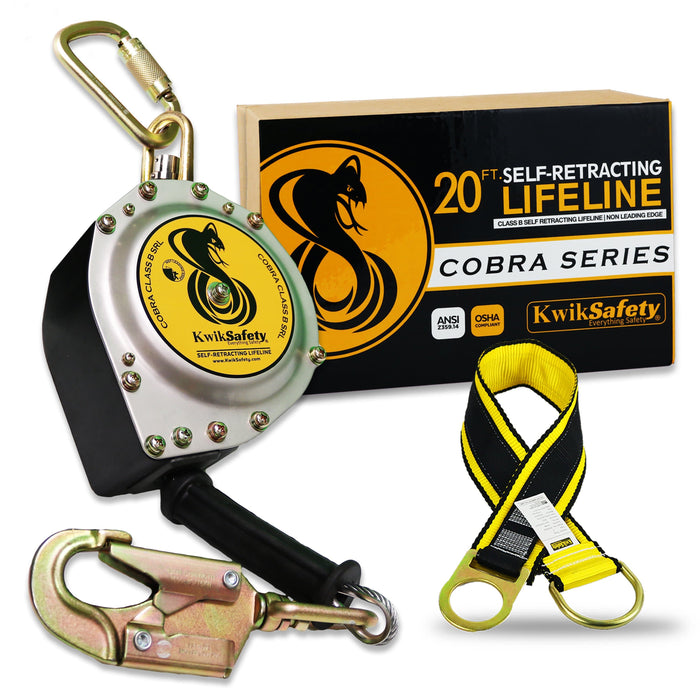 Description:
NO ENTANGLEMENT & HEAVY DUTY HOUSING – Never worry about tripping or getting tangled in the KwikSafety COBRA 20 ft and 30 ft (Class B) Self Retracting Lifelines. These fall protection guardians have a 3/16" non-fraying galvanized steel cable that easily retracts into its heavy duty, protective aluminum housing, and a textured grip for easy handling. The instant locking tech and quick brake system will catch you in what feels like a nano second during the event of a fall and ease the impact.
SWIVEL TOP, 1 SNAP HOOK, 1 TWIST LOCK CONNECTOR – The COBRA SRL line is compatible with any D-Ring harness and safety anchor strap as part of your fall protection kit! The steel snap hook is self-locking (no rollout here!) and has a gate strength of 3,600 lbs. The heavy duty, twist lock steel carabiner clip with swivel top helps with ease of work and prevents a twisting lifeline. With the help of these components, both the 20 ft and 30 ft COBRA SRL have an average arresting force of 900 lbs.
ANSI TESTED BY 3RD PARTY (Unique to KwikSafety Products) – The COBRA SRL series (and KwikSafety's other fall protection) is quality checked and tested by a 3rd party accredited testing lab. The COBRA is not leading edge and has a capacity of 130 – 310 lbs., compliant with ANSI/ASSE Z359.14-2014. The yellow zinc anodized steel snap hook is compliant with ANSI.Z359.12 standards. KwikSafety gets all of their products ANSI tested while majority of other safety companies do not and its buyers beware.
OSHA COMPLIANT (Keep OSHA on Your Side) – Put the COBRA SRL on the frontlines of any project where OSHA compliance is required. Can be used for climbing on a roof or ladder, construction, roofing work, gutter cleaning, installation, steep roofs, inspection, maintenance, wind turbines, communication towers, water tanks, wells, ship yards, rigging, window washing. Used by iron & steel workers, roofers, linemen, engineers, inspectors, supervisors, technicians, industrial painter.
FALL PROTECTION GUARDIAN – With the COBRA, you'll want to conquer heights as tall as the peak of Malta! KwikSafety products are proudly designed & shipped from Charlotte, NC, USA. Our Charlotte-based team will quickly answer any and all of your questions and concerns about your order in English or Espanol (línea de vida autorretráctil, seguridad yoyo). KwikSafety products are premium stylish safety products designed by Americans with American Standard level of quality.
Kit & Combo Option Savings
20FT COMBO (SAVE $5)
20FT KIT (SAVE $10)
SRL + Cross Arm Strap + Roof Anchor
20FT BUNDLE (SAVE $15)
SRL + Cross Arm Strap + Roof Anchor + Safety Harness
30FT COMBO (SAVE $5)
30FT KIT (SAVE $10)
SRL + Roof Anchor + Cross Arm Strap
30FT BUNDLE (SAVE $15)
SRL + Roof Anchor + Cross Arm Strap + Safety Harness
 ----------------------------------------
CROSS ARM STRAP - T

he 

GIBBON GRIP

 cross arm strap is a premium fall protection tool anchor strap with a large d ring connector. 

3 foot long pass thru web anchor. Worker capacity is 310 lbs, Min. breaking strength is 5000 lbs, Anchorage equipment for a single user. The perfect high rise guardian watching your back, web anchor fall protection arrest restraint safety equipment.
REUSABLE ROOF ANCHOR

 

- The GATOR temporary reusable roof anchor comes with a single adjustable D-Ring for an easy range of motion, as well as an easy attachment with compatible fall protection harness, lanyard, ropes, lifelines, and other roofing equipment. Weather resistant so no worries about rusting if you leave the anchor bracket outside. With a minimum tensile strength of 5,000 lbs the GATOR is designed to be used by one person, maximum capacity of 310 lbs (140 kg).
SAFETY HARNESS -

Our THUNDER fall arrest harness is fully equipped with two side (2) D Rings and (1) Dorsal Ring suitable for primary fall arrest attachment, travel restraint, and rescue. The construction harness has load bearing straps, made from pure, non-recycled synthetic material that is water repellant, has superior stitching, and resistant against ageing, heat, and abrasion. Ensure a safe and proper fit with three (3) pass-through buckles located on the hips, chest and legs of the harness.