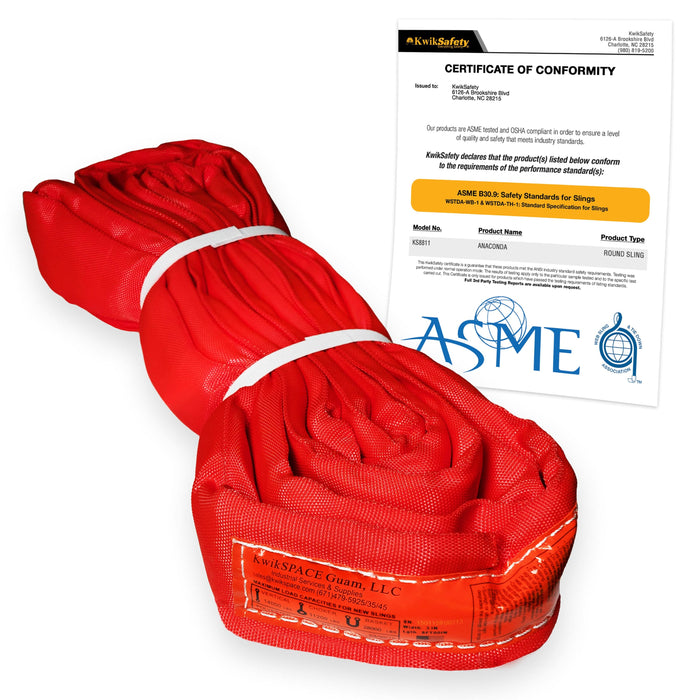 Description:
ROUND SLINGS - KwikSafety Synthetic Polyester Round Slings are manufactured from light or heavy duty material that has been surface "treated" to improve abrasion resistance, seal out moisture, and prevent grit from penetrating the web and causing internal wear. Our endless round slings are heavy duty and is a popular, versatile sling used in vertical, choker & basket hitches with easy to remove from underneath loads.

OSHA COMPLIANT - This sling meets American Society of Mechanical Engineers (ASME) specification B30.9 and Occupational Safety and Health Administration (OSHA) specification 1910.184. These slings are used to lift heavy and light objects for industrial applications. Types of slings include web and round slings. For polyester round slings it is unaffected by grease and oil, and the material has excellent chemical resistance to aldehydes, ethers, and strong chemical bonds. However, polyester slings are NOT suitable for use with acids and bleaching agent or at temperatures in excess of 190 degrees F.

ASME TESTED

 - The ASME Standard B30.9-2006, Safety Standard for Cableways, Cranes, Derricks, Hoists, Jacks and Slings, applies to slings intended for lifting made with sewn synthetic webbing and synthetic fiber rope. The Standard describes technical requirements for construction, load rating, proof testing, identification, maintenance, environmental effects, end attachments, inspection, repair and use.
THE SAFE CAREERS

 - These well engineered and tested products are the most trusted to provide unique, simple solutions for specific everyday industrial needs, offering reliability, security, safety, and ease of use. Slings without testing certificates face heavy risks with regards to performance in the field such as: acid or caustic burns, melting or charring, holes, tears, cuts, snags, broken/worn stitching in load-bearing splices, excessive abrasive wear, knots, excessive pitting or corrosion, or cracked, distorted or broken fittings, other visible damage or missing/illegible markings etc.
THE SAFETY YOU NEED, THE STYLE YOU WANT

 - 

KwikSafety products are proudly designed & shipped from Charlotte, NC, USA. Our Charlotte-based team will quickly answer any & all of your questions & concerns about your order in English or Spanish, si habla Espanol (eslinga redonda, eslinga de elevación). KwikSafety products are premium safety products designed by Americans w/ American Standard level of quality. If you have a problem, we have a solution for you.