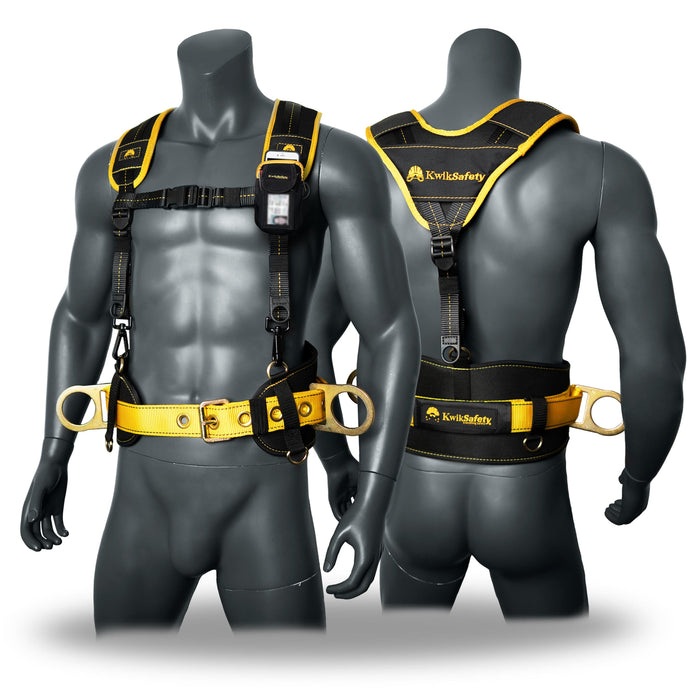 Description:
SAFETY BELT WORK SUSPENDERS

 

- The BEAVER TAIL tool belt harness (NOT FOR FALL PROTECTION!) is crafted to alleviate stress from carrying your safety belt by taking the weight from your waist & spreading it evenly across your shoulders. 4-point support toolbelt suspenders features comfy cushioned shoulder & upper back padding, (1) detachable ID & phone loop pocket, (3) carabiner belt clips, (1) strong chest snap buckle, (2) light-duty tool loops & (4) strap adjustment points for proper fitting.
UPGRADE YOUR SAFETY BELT 

- The BEAVER TAIL construction padded belt w/ suspension straps is the ideal gear for any ironworker or lineman. Features (2) heavy duty, yellow zinc anodized tool belt d rings for positioning, premium polyester work positioning belt straps w/ (12) steel grommets & tongue buckle for quick & easy adjustment, (4) small durable tool tether d-rings, & (1) 29.5" polyester ergonomic waist/back pad lined w/ sweat absorbing nylon material for all day support & comfortability.
HIGH-PERFORMANCE POSITIONING BELT

 

- Premium quality lineman belt that is one size fits most. Fits waist sizes 39" - 58" (99cm-147cm). Ideal safety positioning belt w/ work suspenders crafted for use as ironworker tool belt, lineman tool belt, electrician tool belt, carpenter tool belt, rebar tool belt, scaffold worker tool belt, construction work safety belt & more! Durable safety belt harness for carrying tool bag, bolt bag, tie wire reel, etc. while climbing or working on scaffold/scaffolding.
OSHA COMPLIANT

 

(Keep OSHA on Your Side) - This positioning belt w/ heavy duty work suspenders is an essential part to any workers positioning system & is ideal for any job where OSHA compliance is required. Ensure proper fit by making sure all clips are secure, and all adjustment points & belt fit snug & comfortably. Double stitching help to reinforce support & longevity. This linemans belt is quality made to withstand normal wear & tear, abrasions & is quality checked for tears, cuts & fraying.
THE SAFETY YOU NEED, THE STYLE YOU WANT️

 

- KwikSafety products are proudly designed & shipped from Charlotte NC USA. Our Charlotte-based team will quickly answer all of your questions & concerns about your order in English or Spanish, si habla Espanol (cinturon herramientas, cinturón de seguridad, tirantes para bolsas de construccion). KwikSafety products are premium safety products designed by Americans w/ American Standard level of quality. If you have a problem, we have a solution for you.