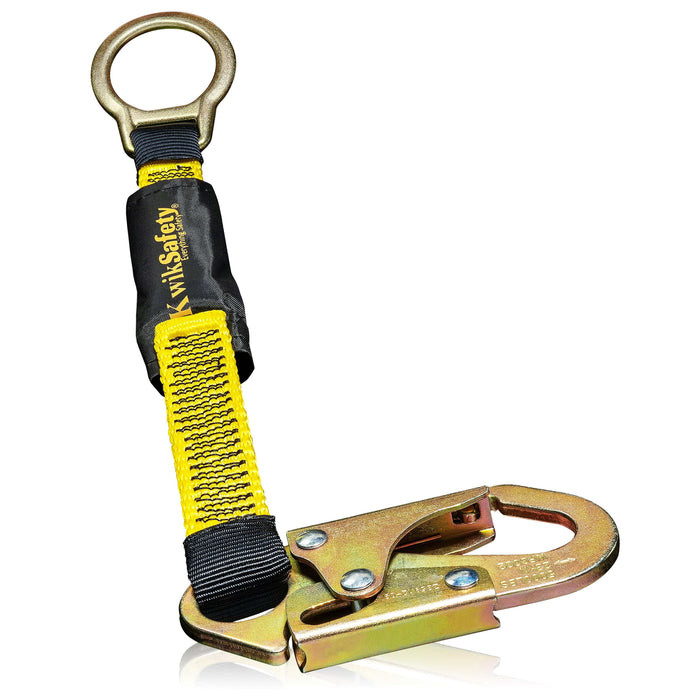 Description:
EASY HOOKUP D RING FALL PROTECTION SNAP EXTENDER - The DOLPHIN DORSAL D-Ring Extender is made of 100% polyester webbing. Its heavy-duty core is reinforced with premium stitching that's flexible enough for use in any work environment. At a maximum extension of 18 inches (1.5 feet), this fall protection device is by far the easiest of its kind to connect and use! Simply attach the built-in snap hook on the product to the dorsal d-ring on your safety harness to complete your fall protection kit!
SNAP HOOK, O-RING & SAFETY LABELS - The KwikSafety DOLPHIN DORSAL Ring Extender comes w/ (1) anodized steel snap d ring hook & (1) d-ring hook extender. The self-locking snap hook clip extender has been ANSI tested to a tensile strength of 5,000 lbs! This d ring extension safety harness clip supports an average arresting force of 900lbs & includes an o-ring for safety lanyard compatibility. The fall arrest indicator tag can be found under the label cover and will break in the event of a fall.
OSHA COMPLIANT (Keep OSHA on Your Side)- The perfect 18 inch d ring extender addition to your safety harness fall protection kit! Great fit for any project where OSHA compliance is required & those who need safety first but want premium product & style. Personal Protective Equipment (PPE) fall arrest kit gear ideal use for scaffolding, construction harness, roofing harness, inspection/maintenance, emergency rescue, tower climbing & more! Used by ironworkers, roofers, linemen & engineers.
ANSI TESTED BY 3RD PARTY (Unique to KwikSafety Products) - This D-Ring Extender is quality checked & thoroughly tested by a 3rd party accredited testing lab & is in full compliance with ANSI Z359.18-2017. The self-locking, yellow zinc anodized steel snap hook & d-ring are compliant with ANSI.Z359.12 standards. KwikSafety gets all of their products ANSI tested while majority of other safety companies do not and its buyers beware. Perfect pairing with any d ring harness & fall restraint lanyard!
THE SAFETY YOU NEED, THE STYLE YOU WANT - KwikSafety products are proudly designed & shipped from Charlotte NC, USA. Our Charlotte-based team will quickly answer all of your questions & concerns about your order in English or Spanish, si habla Espanol (xtensor de anillo en D, extensor de anillo en D de protección contra caídas). KwikSafety products are premium safety products designed by Americans w/ American Standard level of quality. If you have a problem, we have a solution for you.
Kit & Combo Option Savings
COMBO (SAVE $5)
D-Ring Extender + Safety Lanyard
KIT (SAVE $10)
D-Ring Extender + Safety Lanyard + Safety Harness
 ----------------------------------------
SAFETY LANYARD

 

- 

The RATTLER is a single leg, heavy duty, high performance safety lanyard that meets and exceeds ANSI Z359.13-2013 standards. Be seen and be safe with the fluorescent yellow polyester webbing. Use with compatible fall protection safety harness, free fall (FF) lanyards, energy absorbers, lifelines, and anchorage lanyards.
SAFETY HARNESS

 

-

 

The KwikSafety TYPHOON is a premium, durable, high performance full body harness that meets & exceeds ANSI/ASSE Z359.11-2014 standards. Our safety harness fall protection features: (2) hip d-rings & (1) dorsal d-ring for fall arrest attachment, restraint & rescue. (1) large cushioned shoulder pad, (1) cushioned back support pad, (2) tongue buckles ensuring proper fit & premium stitched load bearing straps made from non-recycled synthetic material.