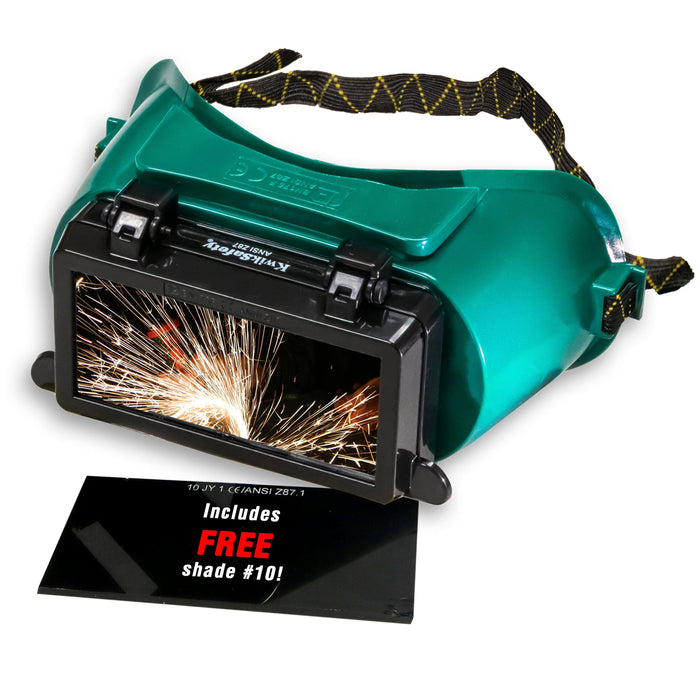 Description:

SHADE 5 SAFETY GLASSES | FREE SHADE 10 LENS

- Eye protection is crucial. Exposure to UV radiation causes chemical changes to the cornea, white of the eye, eye lens & retina. The professional grade EAGLE EYES protects you w/ Shade #5 IR lens & FREE Shade #10 lens. The frame is made from durable PVC material & has anti-scratch properties to ensure long-lasting usability. Flip-up front for easy non-shade view. The lenses are clear & provide 180° view allowing you the benefit of peripheral vision.

ANTI-FOGGING LENS 

-

Welding safety goggles frame crafted w/ protective durable polyvinyl chloride material. Equipped w/ 6 pressure equalizers located on the top&bottom of the goggles to provide maximum air flow. Adjustable welder goggles elastic band makes these shade 5 safety glasses rectangular goggles fully adjustable for maximum comfort! These welding goggle/gafas protectoras industriales allow users to wear medium-sized eye glass glasses underneath comfortably without hindering your vision!

PREMIUM FLIP-UP WELDING GOGGLES

 

-

The EAGLE EYES welding goggles were crafted w/ users in mind. Ideal for eye/face protection from welding w/ plasma jet or infrared welding w/ w/1 amp welding current max. Other uses: soldering, brazing glasses, oxy-acetylene gas welding goggles, cutting glasses, acetylene cutting glasses, blacksmith goggles, torch cutting goggles, tig welding goggles, plasma cutting goggles, metal cutting glasses, grass cutting goggles, MIG, TIG, ARC, AIR, & coated electrodes.

ANSI TESTED BY 3RD PARTY (Unique to KwikSafety Products)

 

-

The EAGLE EYES welding goggle(s) are quality checked & thoroughly tested by a 3rd party accredited testing lab & is in full compliance with ANSI Z87.1 (Personal Eye & Face Protection Devices). In addition to this, they are CE EN175 F (equipment for eye and face protection during welding and allied processes) certified to meet European standards. KwikSafety gets all of their products ANSI tested while majority of other safety companies do not and it is buyers beware.

THE SAFETY YOU NEED, THE STYLE YOU WANT

 

-

KwikSafety products are proudly designed & shipped from Charlotte, NC, USA. Our Charlotte-based team will quickly answer any & all of your questions and concerns about your order in English or Spanish, si habla Espanol (gafas de seguridad, espejuelos para soldador, lente para soldar, soldador). KwikSafety products are premium safety products designed by Americans with American Standard level of quality. If you have a problem, we have a solution for you.