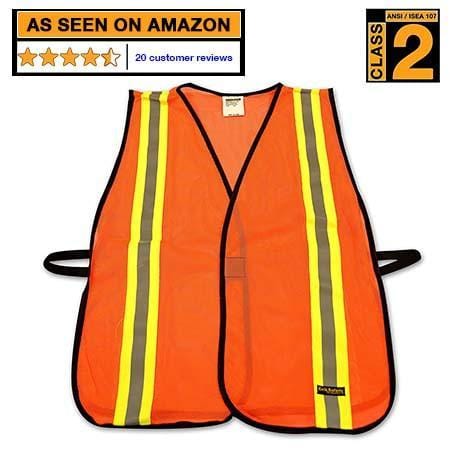 KwikSafety High Visibility Traffic Safety Vest by KwikSafety
This KwikSafety high quality, high visibility, reflective traffic safety vest is great for any industry and any application. Comfortable safety vests made with breathable mesh fabric. Outlined Reflective Strips Located in the Front and Back, with breathable high visibility material reflective safety vests and light for summer wear. Comfortable worn over winter clothing. Built for maximum durability, greater functionality, improved visibility and great style!
KwikSafety safety vest is used for recreational purposes. The fluorescent yellow and orange design with Reflective material provides 360 degree visibility. Day/nighttime safety vest is great choice in high visibility, reflective clothing. Day/Nighttime safety vest is made of a soft, lightweight, mesh material with a velcro closure. High visibility, 100% polyester, light weight, comfortable fit, high quality safety vest with reflective tape. The color is florescent safety orange and yellow. The reflective material is used to set objects apart from their surroundings. The reflective stripes are sewn in and run horizontal and vertical on the front and back. Velcro closure stopping at chest height. Generous arm cut for greater mobility.
Garment is intended for high visibility and is not intended for highly inflammable environments or for use with hazardous materials. The KwikSafety high visibility safety vest has a helpful size chart with the measurements that will ensure that you order the right size for men and women, adults and kids.
HEAVY DUTY - Heavy Duty Velcro and Elastic Bands on Each Side. High Quality Reflective Traffic Vest with exceptional design: slim, lightweight, compact, and super bright reflective stripes. Comfortable to wear over any clothing or sports gear night and visible during daytime.
HIGHLY REFLECTIVE - Outlined Reflective Strips Located in the Front and Back Whether you enjoy running, walking, cycling, or just taking a peaceful stroll with your dog at night, these ultra-bright KwikSafety belts will keep you safe and secure - a mandatory piece of safety equipment for any low-light activity and a great addition to your outdoor- or reflective gear.
LIGHTWEIGHT & VERSATILE - A comfortable fit over sports gear or outdoor clothing. Easily adjustable reflective belt vest to fit a wide range of size and body types makes this an ideal multi-functional piece of reflective gear.
GREAT LOOK - Black Trim around Arms and piping down sides. Elastic Reflective Belt - One Size Fits Most. Great for Safety Belt, Running Belt, Biking, Cycling & All Sorts of Outdoor Activity. Weather resistant, rain or shine, summer or winter - any weather condition, any time - enjoy enhanced visibility and comfort knowing you'll be safe and secure at any time of the day.