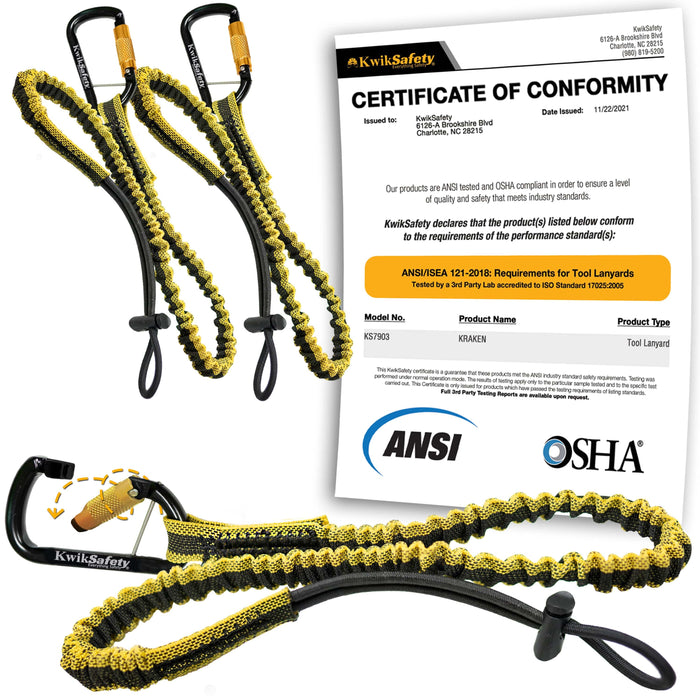 Description:
HEAVY DUTY PERFORMANCE

 

-

The KRAKEN tool lanyard is designed for heavy duty uses, like hand tools or small power tools. The lanyard has a durable bungee strap with a cord stopper with a durable rubber base to secure tools. The anodized aluminum carabiner does not rust! Being a lanyard with connectors for tools, it is third party tested to a max weight of 10 lbs, resting length is 3ft and activated length is about 5 ft. Perfect for professional or recreational use (lineman, hunting, etc.).
ALUMINUM CARABINER

 

-

The carabiner is included for stability of tool attachments. The lanyard for drill is designed with a knurled, gold, twist lock gate for extra grip and one-handed use. It will smoothly clip/unclip and it includes a captive pin so the straps never slide off. The shock absorbing chord is in a classic safety yellow pattern with a stylish black stripe. The bungee cord carabiner reduces the force on the body/anchor point so your tethered accessories aren't uncomfortable.
ADJUSTABLE CLASP -

The clasp or "choke" is larger than our other tool lanyards and is a high quality durable mechanism that has a stronger bite for a more reliable grip on light and heavy tools / equipment. The locking mechanism is activated by thumb activated triggers, crimping only when released. Perfect for catching a falling drill. The elastic lanyard band can swivel safely with a tool attached. Both the shock cord stopper, and the anodized aluminum carabiner ensure all weather performance.
ANSI TESTED BY 3RD PARTY (Unique to KwikSafety Products)

 

-

ANSI-121-2018 - All of KwikSafety KRAKEN tool lanyards have undergone the "Qualification and Verification Testing of Fall Protection Products". They exceed the already-rigorous ANSI testing standards and are heavy-duty, high-performance fall protection you can trust to have your back. Working at heights 6 ft or more? Keep your equipment on you with the fall protection adjustable lanyard. View the Compliance Label/Safety Label for more information.
FALL PROTECTION GUARDIAN -

Tie your equipment with a tool hook and protect them like you'd protect yourself! KwikSafety products are proudly designed & shipped from Charlotte NC, USA. Our Charlotte-based team will quickly answer any of your questions and concerns about your order in English or Espanol (cordón para herramientas de protección contra caídas). KwikSafety products are premium stylish safety products designed and approved by Americans with American Standard level of quality.