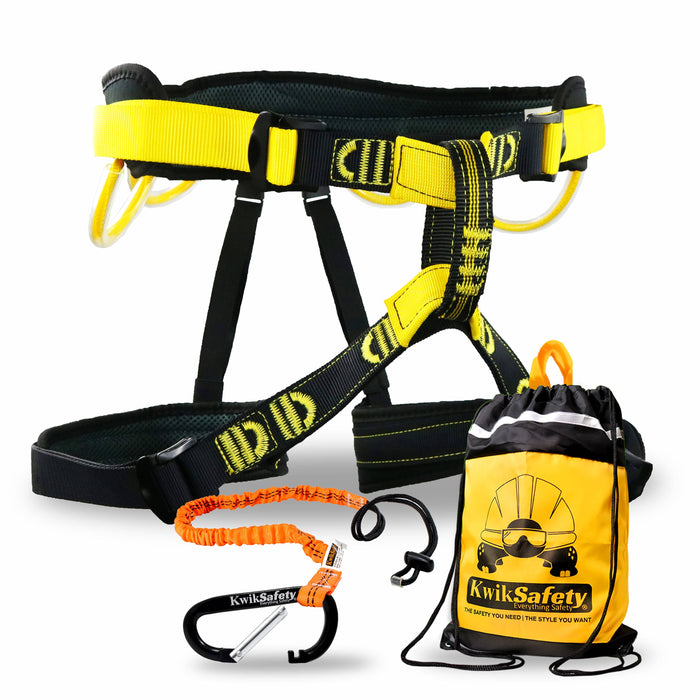 Description:
AIN'T NO MOUNTAIN HIGH ENOUGH - Outdoor recreation / professional gear for these types of mountaineering / climbing activities: free, tree, indoor, chalk, ice, sport, rappelling, rock, pole, tower, sport, canyoneering, river roping, top roping, artificial walls, personal tree pruning & planting. For photographer, filmmaker, gym, utility cabling & lightning protection, arborist, forester, technician, logger, hunter, lumber jack trimming, landscaping technicians, emergency rescue & fire search.
ATTENTION TO DETAIL - Weight limit of 130-310 lbs, breaking strength of 23kn, tested & conforms to mountaineering equipment EN 12277:2015 harnesses standard, CE & ISO9001 requirements. There are four high quality hardened heavy duty plastic wrapped braided cord loops & one back loop sewn into the climbing half harness to hang equipment gear such as: carabiners, quickdraws, belay devices, crampons, ice tools, shoes, ascenders, descenders, clips, lanyards, ropes, straps, water & chalk bags
UNIVERSAL SIZE & STELLAR DURABILITY - Adjustable waist & leg straps make this universal climbing half harness (not a full body harness) a one size fits most, small, medium, large for men (male mens), women (female womes), adult & youth (not for small toddlers or kids). System is made from 100% polyester, all connections webbing & quick release snap on connections have strong reinforced double stitching & premium grade full construction to keep you comfortable while climbing. 
BREATHABLE & COMFORTABLE - Breathable foam for user comfort & adjustable bungee stretchy straps for extreme flexibility to tackle any height, giving it the versatility to climb and handle multiple climbing disciplines & difficulties, starter/beginning, intermediate, advanced from sport grade level 1 green diamond to a 9a+ black diamond level difficulty. This device will keep you safe, padded and comfortable during long use weather is scaling a rock mountain or hunting elk / big and small game.
FREE TOOL LANYARD + CARABINER CLIP! - The TENTACLE tool lanyard accessory is coiled retractable bungee cord with loop & adjustable lock for fall protection, it has 2:1 safety factor & can hold tools up to 10 pounds. It is a light duty tool lanyard that comes with an aluminum carabineer clip. The snap carabineer is smoothly clipped / unclipped, & can be used independently. The aluminum carabineer wont rust is included for versatility of tool attachments