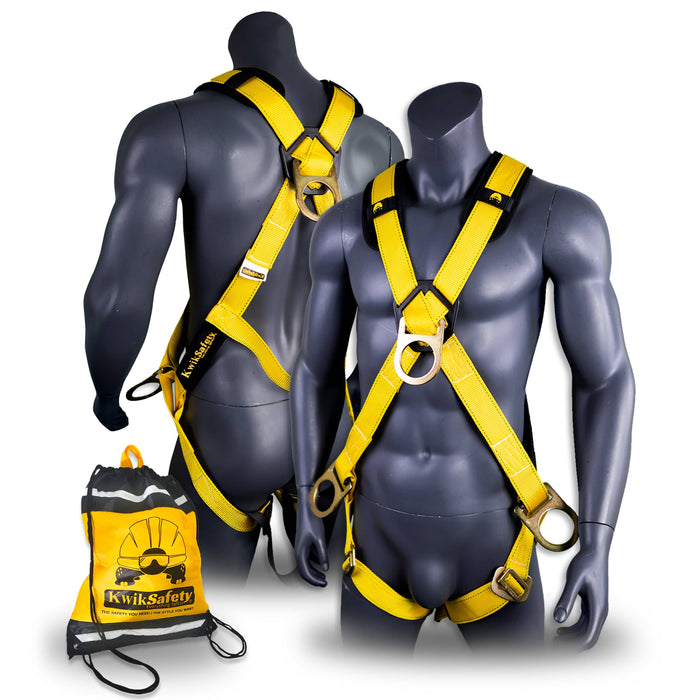 Description:
HEAVY DUTY D-RINGS - Full body safety harness with a total of 4 d-rings (1 front/chest, 2 side, 1 back/dorsal) compatible with most fall protection equipment. The load bearing straps are made with durable polyester webbing that have high quality stitching and lasting durability against ageing, heat, and abrasion. The heavy duty hardware has an anodized, yellow zinc coating to preserve the lifetime of the harness. This saftey harness is ideal for users within the capacity range 130-310 lbs.
PEAK WORK PERFORMANCE - Full body harness suitable for fall protection kit/roofing harness safety kit work. This fall proteciton harness works for men, women, construction, roofing, roofers, and more (arnes para roofing y más). Safety fall protection harness with 2 adjustable pass through connectors and premium, cushioned shoulder padding to keep you comfortable. Stay informed about your safety harness with the safety and warning labels located inside the heavy duty protective label cover.
ANSI TESTED BY 3RD PARTY (Unique to KwikSafety Products) - This fall harness (as well as KwikSafety's other fall protection safety harnesses) is quality checked and tested by a 3rd party accredited testing lab and is in full compliance with ANSI/ASSE Z359.11-2014. KwikSafety gets all of their products ANSI tested while majority of other safety companies do not and its buyers beware. Other available harnesses: KwikSafety Tornado, Thunder, and Scorpion.
OSHA COMPLIANT (Keep OSHA on Your Side) - This fall protection harness is the ideal fall arrest equipment for any project where OSHA compliance is required. A great addition to your safety harness fall protection kit and is compatible with a fall protection lanyard, rope, and lifelines. Can be used as a harnes for roofer, towers, boom lift safety, construction, arborist, fall arrest, restraint, rescue, and more.
FALL PROTECTION GUARDIAN - KwikSafety products are proudly designed & shipped from Charlotte, NC, USA. Our Charlotte-based team will quickly answer any and all of your questions and concerns about your order in English or Español (arnes seguridad, arnes de seguridad, arnes seguridad para construccion.) KwikSafety products are premium stylish safety products designed by Americans with American Standard level of quality.
Kit & Combo Option Savings
COMBO (SAVE $5)
Safety Harness + Vertical Lifeline
KIT (SAVE $10)
Safety Harness + Vertical Lifeline + Safety Lanyard
ASSEMBLY (SAVE $10)
Safety Harness + Vertical Lifeline + Safety Lanyard + Roof Anchor
 ----------------------------------------
SAFETY LANYARD

 

- 

The RATTLER is a single leg, heavy duty, high performance safety lanyard that meets and exceeds ANSI Z359.13-2013 standards. Be seen and be safe with the fluorescent yellow polyester webbing. Use with compatible fall protection safety harness, free fall (FF) lanyards, energy absorbers, lifelines, and anchorage lanyards.
VERTICAL LIFELINE 

-

The TSUNAMI is a durable vertical lifeline rope/lineas vida made of yellow & black quality interlaced 100% polyamide fall protection rope. The braided design makes it stronger & more resistant against abrasion & standard use, making this roof rope more flexible, sturdy & long-lasting. Features a hardened, plastic thimble for greater strength & includes a 100% polyester shock protection absorber enclosed in a PVC cover that will deploy in the event of a fall. All sizes (25 ft, 50 ft, 100 ft, & 150 ft vertical lifeline) are quality checked & thoroughly tested by an 3rd party accredited testing lab & it is in full compliance with ANSI/ASSE Z.359.15-2014.
REUSABLE ROOF ANCHOR

 

-

 

The GATOR temporary reusable roof anchor comes with a single adjustable D-Ring for an easy range of motion, as well as an easy attachment with compatible fall protection harness, lanyard, ropes, lifelines, and other roofing equipment. Weather resistant so no worries about rusting if you leave the anchor bracket outside. With a minimum tensile strength of 5,000 lbs the GATOR is designed to be used by one person, a maximum capacity of 310 lbs (140 kg).