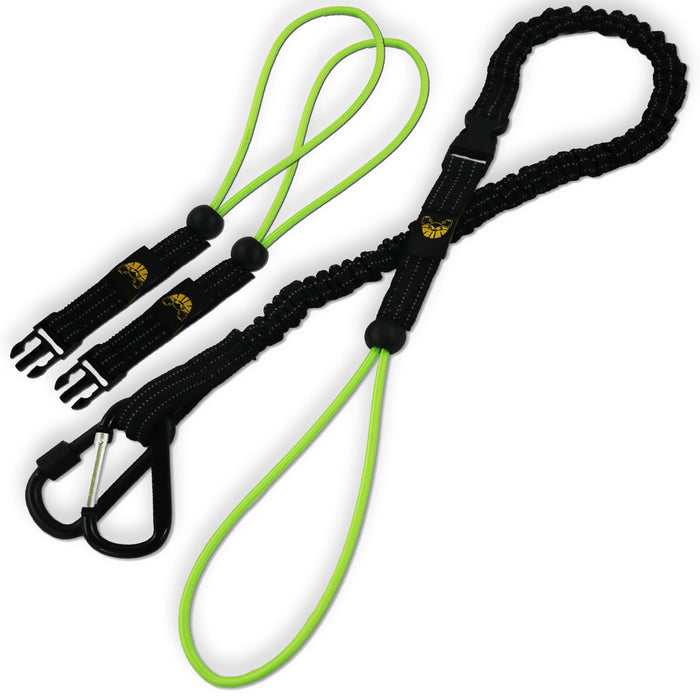 Description:
INDUSTRIAL PERFORMANCE | The Octopus Tool Lanyard is designed for construction trades conditions. Each lanyard has three (3) interchangeable detachable bungee straps with shock cord stoppers for three different power or hand tools, two (2) aluminum carabiners (they do not rust!), one is a quick snap on and the other is a twist lock. Third party tested to a max capacity of 20 lbs, resting length is 3ft and activated length is 5 ft. Each tool lanyard is individually packed into a poly bag.
INTERCHANGEABLE ENDS | The short tool clip ends are retractable detachable interchangeable, making them the more versatile selection. The breakaway buckle connection points can smoothly snap together or unclip, and can be used independently as a wrist leash, perfect for any construction job requiring multi tool capabilities. The additional carabiner is included for versatility of tool attachments. The tactical shock absorbing chord properties reduces the force on the body / anchor point.
STRONG AJUSTABLE CLASP | The sliding clasp or "choke" is high quality durable mechanism that has very strong bite for a reliable grip on light and heavy duty equipment. The locking mechanism is activated by ergonomic thumb activated triggers, crimping only on release, keeping accessories tethered. The green elastic lanyard band has an internal wire to swivel safely with large or small tools attached. The polyester (not nylon) and anodized aluminum carabiners add waterproof performance.
PROFESSIONAL & RECREATIONAL USES | The Octopus is the perfect addition to your ANSI OSHA fall protection kit. Pair it with your safety harness or safety lanyard and use it as an ironworker, arborist, roofer, engineer, chainsaw operator, scaffold worker, or a general construction worker. Tethers to any single power tool such as a drill or saw, or hand tool like a wrench, flashlight, pliers, measuring tape, screwdriver or hammer. Tie one on to prevent tools dropping from a roof, ladder or tree.
FALL PROTECTION GUARDIAN | With the OCTOPUS you'll want to conquer heights as tall as the peak of Malta! KwikSafety products are proudly designed & shipped from Charlotte, NC, USA. Our Charlotte-based team will quickly answer any of your questions about your order in English or Spanish, si habla Espanol (cordon para herramientas). KwikSafety products are premium stylish safety products designed by Americans with American Standard level of quality. If you have a problem, we have a solution.