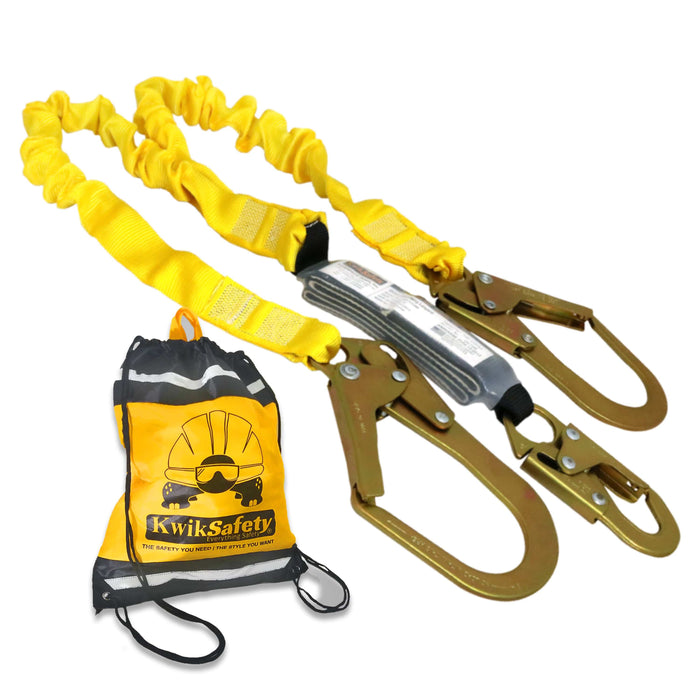 Description:
EXTERNAL SHOCK ABSORBER

 

-

Our heavy duty, double leg safety lanyard is built with a durable polyester webbing that rests at 6 ft and extends to a full 7'2 in. in length! Its water resistant material allows this roofing lanyard to be used in various weather conditions while properly serving as your fall protection guardian. This fall lanyard includes a 4 ft, external shock absorber that, when deployed, breaks its plastic seal and extends to help reduce the impact of a fall, ensuring your safety.
EASY TO CONNECT

 

-

This fall protection lanyard has 2 large scaffolding hooks and 1 compact snap hook. These anodized steel hooks are CSA Z359.12 certified and have a gate strength of 3,600 lbs each! The attached yellow webbing in this polyester lanyard supports 130-310 lb users and has an immense tensile strength of 5,000 lbs! This fall restraint lanyard is constructed to be lightweight and flexible on your body, which makes it easy to connect to your safety harness and designated roof anchor.
VERSATILE

 

-

Utilize this positioning lanyard (not adjustable) with any compatible products in a fall protection system such as: safety harnesses, roof anchors and d-ring extenders. The features of this industrial roof lanyard reinforce the safety and security you'd want to have in the event of a fall. Supporting an average arrest force of 900 lbs, this safety lanyard will keep you safe! Perfect if you are in need of a scaffold lanyard, or you often work on a ladder, or are climbing on a roof!
ANSI TESTED & OSHA COMPLIANT -

We provide a safety lanyard that is quality checked and tested by an accredited, 3rd party testing lab while other safety companies do not; its buyers beware. This roofing safety lanyard is in full compliance with ANSI Z359.13-2013 and serves as ideal guardian protection for projects where OSHA compliance is required. This energy absorbing lanyard can be used as a lanyard construction device that helps reach difficult connection points in tough work environments.
FALL PROTECTION GUARDIAN

 

-

Become a pioneer of safety equipment by using this premium guardian lanyard to conquer any challenge you face! Superior in design and performance compared to other fall protection lanyards, this shock absorbing lanyard will help you enjoy the Safety You Need with the Style You Want! Build upon your fall restraint system by contacting our Charlotte-based team, which will quickly answer any and all of your questions and concerns. ¡Hablamos Español (Cordón de seguridad)!
Kit & Combo Option Savings
COMBO (SAVE $5)
Safety Lanyard + Safety Harness
KIT (SAVE $10)
Safety Lanyard + Safety Harness + Cross Arm Strap
VALUE PACK (SAVE $20)
(x4) Safety Lanyard + (x4) Safety Harness
----------------------------------------
SAFETY HARNESS -

 

Our THUNDER fall arrest harness is fully equipped with two side (2) D Rings and (1) Dorsal Ring suitable for primary fall arrest attachment, travel restraint, and rescue. The construction harness has load bearing straps, made from pure, non-recycled synthetic material that is water repellant, has superior stitching, and resistant against ageing, heat, and abrasion. Ensure a safe and proper fit with three (3) pass-through buckles located on the hips, chest and legs of the harness.
CROSS ARM STRAP -

 

3 foot long pass thru web anchor | Worker capacity is 310 lbs | Min. breaking strength is 5000 lbs | Anchorage equipment for a single user | The GIBBON GRIP cross arm strap is a premium fall protection tool / anchor strap with a large d ring connector | The perfect high rise guardian watching your back, web anchor fall protection arrest restraint safety equipment.