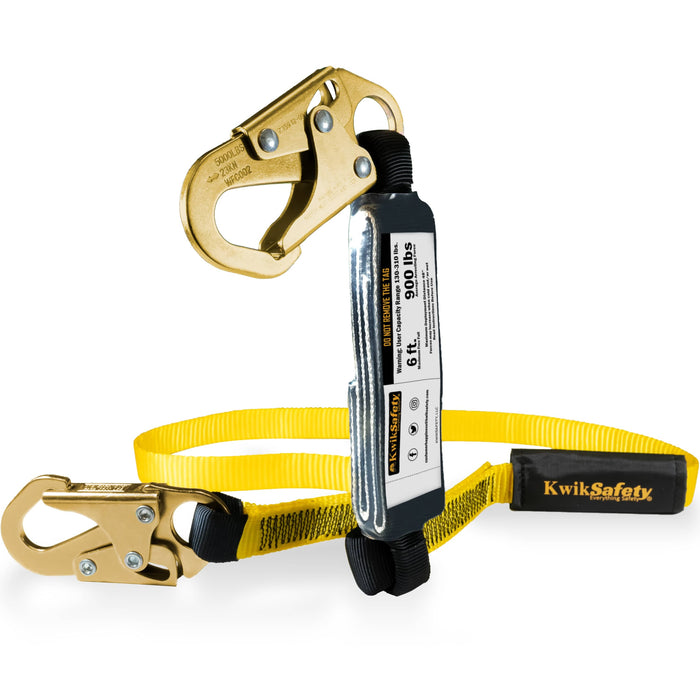 KwikSafety TAIPAN Single Leg Flat 6' External Shock Absorber Safety Lanyard - Model No.: KS7705
Original price
$ 36.90
-
Original price
$ 76.56
Description:
EXTERNAL SHOCK ABSORBER PACK - The TAIPAN is a flat, single leg safety lanyard with heavy duty, 100% polyester yellow webbing material and premium black stitching. This sleek and lightweight fall protection device has an external shock absorber enclosed in an abrasion resistant, hardened plastic material that breaks in the event of a fall (Do not remove!). The integrated energy absorber has a maximum deployment distance of 48 inches (1.2 meters) and an average arresting force of 900 lbs.
2 SNAP HOOKS AND SAFETY LABELS - The KwikSafety TAIPAN single leg fall arrest lanyard comes with two (2) self-locking snap hook connectors ANSI tested to a tensile strength of 5,000 lbs. and gate strength of 3,600 lbs. All snap hooks on the lanyard are compatible with full safety harnesses with D-Rings and anchor points as part of your personal fall arrest system/kit. Stay informed about your lanyard with the safety and warning labels located inside the heavy duty protective label cover.
ANSI TESTED BY 3RD PARTY (Unique to KwikSafety Products) - This single positioning lanyard (as well as KwikSafety's other fall protection safety lanyards) is quality checked and tested by a 3rd party accredited testing lab and is in full compliance with ANSI/ASSE Z359.13-2013. The double locking, yellow zinc anodized steel snap hooks are compliant with ANSI.Z359.12 standards. KwikSafety gets all of their products ANSI tested while majority of other safety companies do not and its buyers beware.
OSHA COMPLIANT (Keep OSHA on Your Side) - Ideal for any project where OSHA compliance is required. Can be used for climbing on a roof or ladder, construction, gutter cleaning, installation, steep roofs, inspection, maintenance, emergency rescue, wind turbines, communication towers, water tanks, wells, ship yards, rigging, window washing. Used by iron & steel workers, roofers, linemen, engineers, inspectors, supervisors, technicians, industrial painter.
FALL PROTECTION GUARDIAN - With the TAIPAN, you'll want to conquer heights as tall as the peak of Malta! KwikSafety products are proudly designed & shipped from Charlotte, NC, USA. Our Charlotte-based team will quickly answer any and all of your questions and concerns about your order in English or Espanol (cordón de seguridad, cordón de protección contra caídas). KwikSafety products are premium stylish safety products designed by Americans with American Standard level of quality.
Kit & Combo Option Savings
BELT COMBO (SAVE $5)
Safety Lanyard + Safety Belt
HARNESS COMBO (SAVE $5)
Safety Lanyard + Safety Harness
 ----------------------------------------
SAFETY BELT -

The BEAVER TAIL Safety Belt features 2 heavy duty, yellow zinc anodized side d-rings for work positioning and other specific location work such as rebar tying, tower maintenance, tree cutting, and more. Do not use for fall protection for fall arrest! The 6 inch premium nylon body pad is designed to give all day support, comfort, mobility while working hands free (and worry free!). This lightweight construction padded belt is a great addition to lineman/ironworker gear personal protection equipment. Heavy duty polyester strap w/ 12 premium steel grommets and tongue buckle for quick and easy adjustment. Premium quality linemans belt that is One Size Fits Most and can fit waist sizes 39" - 58" (99cm - 147cm). The ergonomic waist pad is 29.5" long, made with sweat absorbing nylon material on the inside. The KwikSafety️ branded label cover protects all safety labels and information. Superior choice for climbing belt, iron workers tool belts, and more.
SAFETY HARNESS -

 

Our THUNDER fall arrest harness is fully equipped with two side (2) D Rings and (1) Dorsal Ring suitable for primary fall arrest attachment, travel restraint, and rescue. The construction harness has load bearing straps, made from pure, non-recycled synthetic material that is water repellant, has superior stitching, and resistant against ageing, heat, and abrasion. Ensure a safe and proper fit with three (3) pass-through buckles located on the hips, chest and legs of the harness.