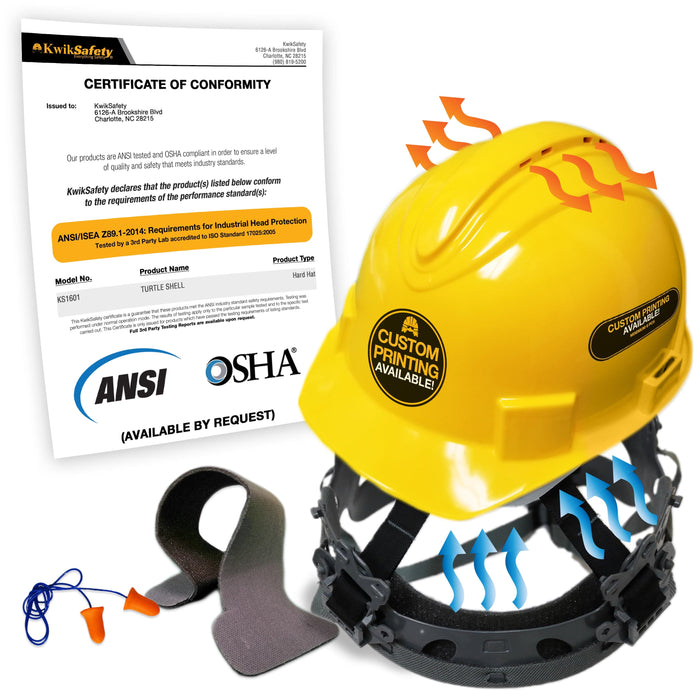 Description:
VENTED HARD HAT | DELUXE COOLING SYSTEM - Safety hard hat/construction hats/helmet construction that feature 10 cooling vents for premium ventilation. These standard cap style hard hat come equipped w/ (1) easy-turning, locking, adjustable hard hat ratchet knob, (1) adjustable hard hat chin strap connector & (1) 4-point lift hardhat strap suspension for maximum comfort & safety throughout the entire work day. Hard hat cap style/fullbrim hardhat includes FREE ear plugs & extra hard hat sweatband!
IMPACT RESISTANT HARD HATS - Durable hard hats construction osha approved safety helmets molded from tough ABS thermoplastic material (not fiberglass). Low profile lightweight hard hat ONE SIZE FITS MOST ADULTS: 52cm (20.5 in) - 63cm (25 in). Available in white/yellow (not black hard hat/carbon fiber hard hat/carbine/graphite). Perfect pair w/ your hard hat accessories such as stickers/reflector decals, neck shade/ hardhat safety visor, chin straps, padded hard hat liner insert (not bump cap).
CLASS C CONSTRUCTION HARD HAT - The perfect standard cap style hard hats/full brim hardhats for those who need maximum protection & safety first but want premium product & style. Personal protective equipment (PPE) head proteccion work wear ideal for construction/contruccion workers, surveyors/contractors, plumbing, ironworker/carpenter, miner/oilfield, forestry work helmet, engineer, warehouse/assemblers, linemans hard hat, freight handlers, electrician, mechanic, welder & other work personnel.
ANSI TESTED BY 3RD PARTY (Certificate of Conformity Available by Request) - This product is quality checked & thoroughly tested by an 3rd party accredited testing lab (Unique to KwikSafety Products) & is in full compliance w/ ANSI/ISEA Z89.1-2014 Type 1/Class C. These safety hard hats are also in compliance w/ OSHA EN397:2012+A1:2012 standards & EEC Directive 89/686/EEC standards. KwikSafety gets all of their products ANSI tested while majority of other safety companies do not & buyers beware.
THE SAFETY YOU NEED, THE STYLE YOU WANT - KwikSafety products are proudly designed and shipped from Charlotte, NC, USA. Our Charlotte-based team will quickly answer any and all of your questions and concerns about your order in English or Spanish, si habla Espanol (cascos construccion, casco seguridad, cascos blancos construccion). KwikSafety products are premium safety products designed by Americans with American Standard level of quality. If you have a problem, we have a solution for you.