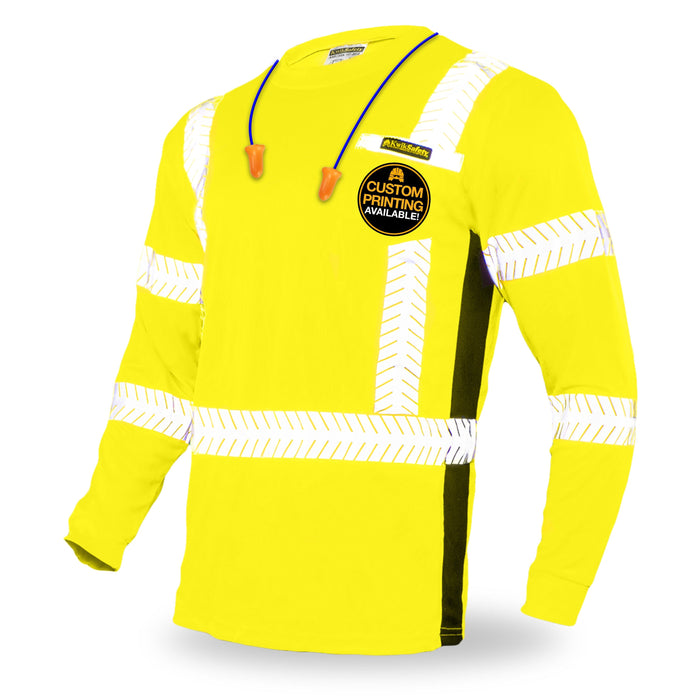 Description:
IP: KwikSafety RENAISSANCE MAN Safety Shirt Patent No.: US D789,655 S®

IP: KwikSafety RENAISSANCE MAN (Fishbone Tape) Patent No.: US D812,306 S®

REFLECTIVE FISHBONE TAPE HIGH VIS SHIRT

 

-

The most stylish class 3 hi vis reflective safety shirts personal protective equipment (PPE) mens high visibility work shirts. Safety construction shirts made w/ breathable polyester mesh & black trimming for a clean, finished look. Safety work shirts w/ stretchable crewneck collar & loose fit allows for less worrying about comfortability. High visibility t shirt reflective shirt silver reflective tape helps to keep you seen & safe w/ maximum visibility!
100% MOISTURE WICKING SAFETY SHIRT 

-

Durable long sleeve work shirt in neon yellow reflective shirt or safety shirts orange polyester that is quality woven w/ breathable black mesh sides. Comfortable neck size & breathable construction shirts - great for cooler weather! Flexible 2inch fishbone reflective tape for enhanced visibility & mobility night or day. These safety reflective shirts feature a durable chest pocket large enough to hold notepads, pens, keys, tools & even small cell phones!
ENGINEERED FOR SAFETY 

-

The perfect custom reflective tshirt for those who need safety first but want premium product & style. Styles available in high visibility shirts long sleeve & short sleeve safety shirts men in small, medium, large, XL, 2XL. High vis shirts designed w/ yellow & orange breathable mesh background material. The class 3 safety t shirts reflective bands offer greater 360° visibility & allow our ansi class shirts mens safety shirts to be used safely in any environment.
A

NSI TESTED, OSHA COMPLIANT 

-

This hi viz shirt is quality checked & thoroughly tested by a 3rd party accredited testing lab & is in full compliance with ANSI/ISEA 107-2015 Class 3/Level 3. KwikSafety gets all of their products ANSI tested while majority of other safety companies do not & its buyers beware. The Ideal hi vis safety shirt / camisas para trabajar hombres reflectiva for all occupations where ANSI & OSHA compliance is required such as construction, surveyors, contractors, & engineer.
T

HE SAFETY YOU NEED, THE STYLE YOU WANT 

-

KwikSafety products are proudly designed & shipped from Charlotte, NC, USA. Our Charlotte-based team will quickly answer any & all of your questions and concerns about your order in English or Spanish, si habla Espanol (camisa de seguridad, camisas reflectantes seguridad, camisas seguridad). KwikSafety products are premium safety products designed by Americans with American Standard level of quality. If you have a problem, we have a solution for you.