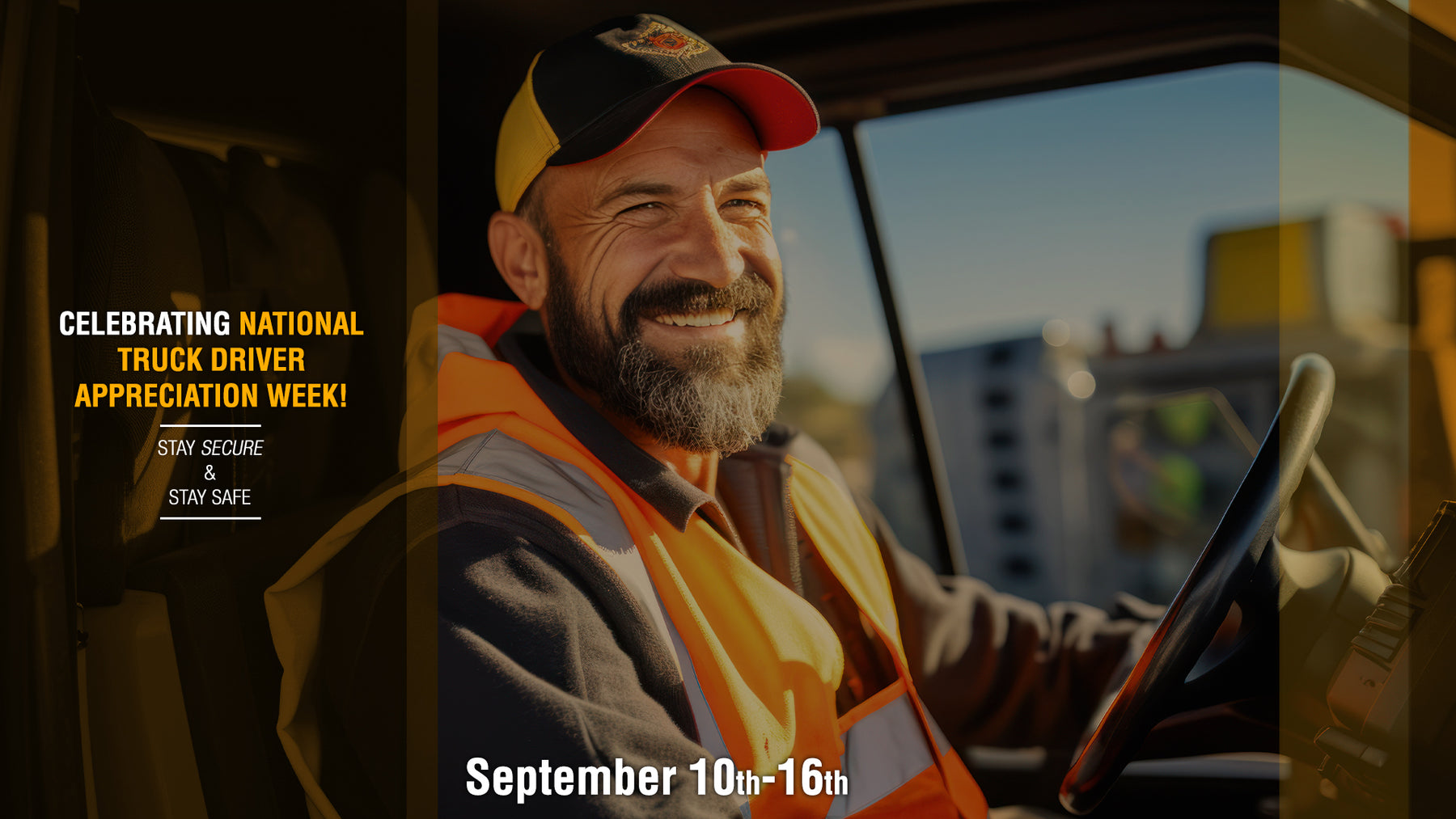 Celebrating National Truck Driver Appreciation Week
Every year, during National Truck Driver Appreciation Week (Sept. 10-16), we take the time to recognize and celebrate the men and women who keep our nation's goods flowing.
Truck drivers play a pivotal role in our economy and our daily lives, ensuring that products get from point A to point B safely and efficiently. But what often goes unnoticed is the incredible dedication and the risks they face daily to deliver the goods we depend on.
In this blog post, we'll explore the significance of Hi-Vis Safety Apparel and DOT C2 Reflective Tape in ensuring the safety of truck drivers on the road.
The Role of Hi-Vis Apparel
High-visibility (hi-vis) apparel such as Safety Vests, Safety Shirts, and Safety Jackets are a vital component of a truck driver's safety gear. It's not just about aesthetics; it's about ensuring that they are visible to other motorists and workers, especially during low-light conditions or inclement weather.
Here's why hi-vis safety apparel is essential:
Increased Visibility: Hi-vis clothing is designed with bright, fluorescent colors like orange, yellow, and lime green, which stand out against typical road backgrounds. These colors catch the eye of other road users, making it easier for drivers to spot truckers from a distance.

Reflective Material: Many hi-vis garments also feature reflective materials that bounce back light from headlights or other sources, making truck drivers even more visible in the dark. This reflective material is often strategically placed on the clothing to maximize visibility.

Compliance with Regulations: The Federal Motor Carrier Safety Administration (FMCSA) has regulations in place that require truck drivers to wear hi-vis apparel in specific situations, such as when they are inspecting their vehicles on the roadside. Wearing hi-vis gear helps drivers remain compliant with these safety rules.
The Importance of DOT C2 Reflective Tape
DOT C2 reflective tape, also known as conspicuity tape, is another critical element in truck safety. This highly reflective material consists of alternating red and white stripes and is typically applied to the rear and sides of commercial vehicles.
Here's why DOT C2 reflective tape is beneficial:
Improved Nighttime Visibility: DOT C2 tape is designed to reflect light in a way that is easily noticeable at night, even from a distance. This added visibility is crucial for preventing rear-end collisions or sideswipes during nighttime driving.

Compliance with Regulations: The Department of Transportation (DOT) mandates the use of DOT C2 reflective tape on certain commercial vehicles. Compliance with these regulations is not only a legal requirement but also a crucial safety measure.

Enhanced Recognition: The distinctive red and white striped pattern of DOT C2 tape helps other drivers quickly recognize the size and shape of the truck, making it easier for them to judge distances and react appropriately.

Reduced Accidents: When applied correctly, DOT C2 reflective tape can significantly reduce the risk of accidents, particularly in situations where trucks need to make sudden stops or lane changes.
During National Truck Driver Appreciation Week, we should not only express our gratitude to truck drivers but also recognize the importance of their safety. Hi-vis apparel and DOT C2 reflective tape are two crucial safety measures that play a significant role in protecting truck drivers on the road. 
Follow us on social media to stay up-to-date on new products and much more!
Celebrando la Semana Nacional de Agradecimiento a los Conductores de Camiones
Cada año, durante la Semana Nacional de Agradecimiento a los Conductores de Camiones (del 10 al 16 de septiembre), tomamos el tiempo para reconocer y celebrar a los hombres y mujeres que mantienen el flujo de bienes en nuestra nación.
Los conductores de camiones desempeñan un papel fundamental en nuestra economía y en nuestra vida cotidiana, asegurando que los productos lleguen de un punto A a un punto B de manera segura y eficiente. Pero lo que a menudo pasa desapercibido es la increíble dedicación y los riesgos que enfrentan a diario para entregar los bienes de los que dependemos.
En esta entrada de blog, exploraremos la importancia de la Ropa de Seguridad de Alta Visibilidad y la Cinta Reflectante DOT C2 en garantizar la seguridad de los conductores de camiones en la carretera.
El Papel de la Ropa de Alta Visibilidad
La ropa de alta visibilidad (hi-vis), como chalecos de seguridad, camisas de seguridad y chaquetas de seguridad, es un componente vital del equipo de seguridad de un conductor de camión. No se trata solo de estética; se trata de asegurarse de que sean visibles para otros conductores y trabajadores, especialmente en condiciones de poca luz o clima inclemente.
Aquí está por qué la ropa de seguridad hi-vis es esencial:
Aumento de la Visibilidad: La ropa hi-vis está diseñada con colores brillantes y fluorescentes como el naranja, el amarillo y el verde lima, que resaltan sobre los fondos de carretera típicos. Estos colores llaman la atención de otros usuarios de la carretera, lo que facilita que los conductores vean a los camioneros desde la distancia.
Material Reflectante: Muchas prendas hi-vis también cuentan con materiales reflectantes que reflejan la luz de los faros u otras fuentes, lo que hace que los conductores de camiones sean aún más visibles en la oscuridad. Este material reflectante suele colocarse estratégicamente en la ropa para maximizar la visibilidad.
Cumplimiento de Regulaciones: La Administración Federal de Seguridad del Transporte de Motoristas (FMCSA) tiene regulaciones que requieren que los conductores de camiones usen ropa hi-vis en situaciones específicas, como cuando inspeccionan sus vehículos en la carretera. Usar equipos hi-vis ayuda a los conductores a cumplir con estas normas de seguridad.
La Importancia de la Cinta Reflectante DOT C2
La cinta reflectante DOT C2, también conocida como cinta de conspicuidad, es otro elemento crítico en la seguridad de los camiones. Este material altamente reflectante consta de franjas alternadas de color rojo y blanco y generalmente se aplica en la parte trasera y los costados de los vehículos comerciales.
Aquí tienes por qué la cinta reflectante DOT C2 es beneficiosa:
Mejora de la Visibilidad Nocturna: La cinta DOT C2 está diseñada para reflejar la luz de manera que sea fácilmente visible durante la noche, incluso desde una distancia. Esta mayor visibilidad es crucial para prevenir colisiones traseras o roces laterales durante la conducción nocturna.
Cumplimiento de Regulaciones: El Departamento de Transporte (DOT) exige el uso de cinta reflectante DOT C2 en ciertos vehículos comerciales. Cumplir con estas regulaciones no solo es un requisito legal, sino también una medida de seguridad crucial.
Reconocimiento Mejorado: El distintivo patrón de franjas rojas y blancas de la cinta DOT C2 ayuda a otros conductores a reconocer rápidamente el tamaño y la forma del camión, lo que facilita la estimación de distancias y una reacción apropiada.
Reducción de Accidentes: Cuando se aplica correctamente, la cinta reflectante DOT C2 puede reducir significativamente el riesgo de accidentes, especialmente en situaciones en las que los camiones necesitan hacer paradas repentinas o cambios de carril.
Durante la Semana de Agradecimiento a los Conductores de Camiones Nacional, no solo debemos expresar nuestra gratitud a los conductores de camiones, sino también reconocer la importancia de su seguridad. La ropa de alta visibilidad y la cinta reflectante DOT C2 son dos medidas de seguridad cruciales que desempeñan un papel significativo en la protección de los conductores de camiones en la carretera.
¡Síguenos en las redes sociales para mantenerte al día sobre nuevos productos y mucho más!