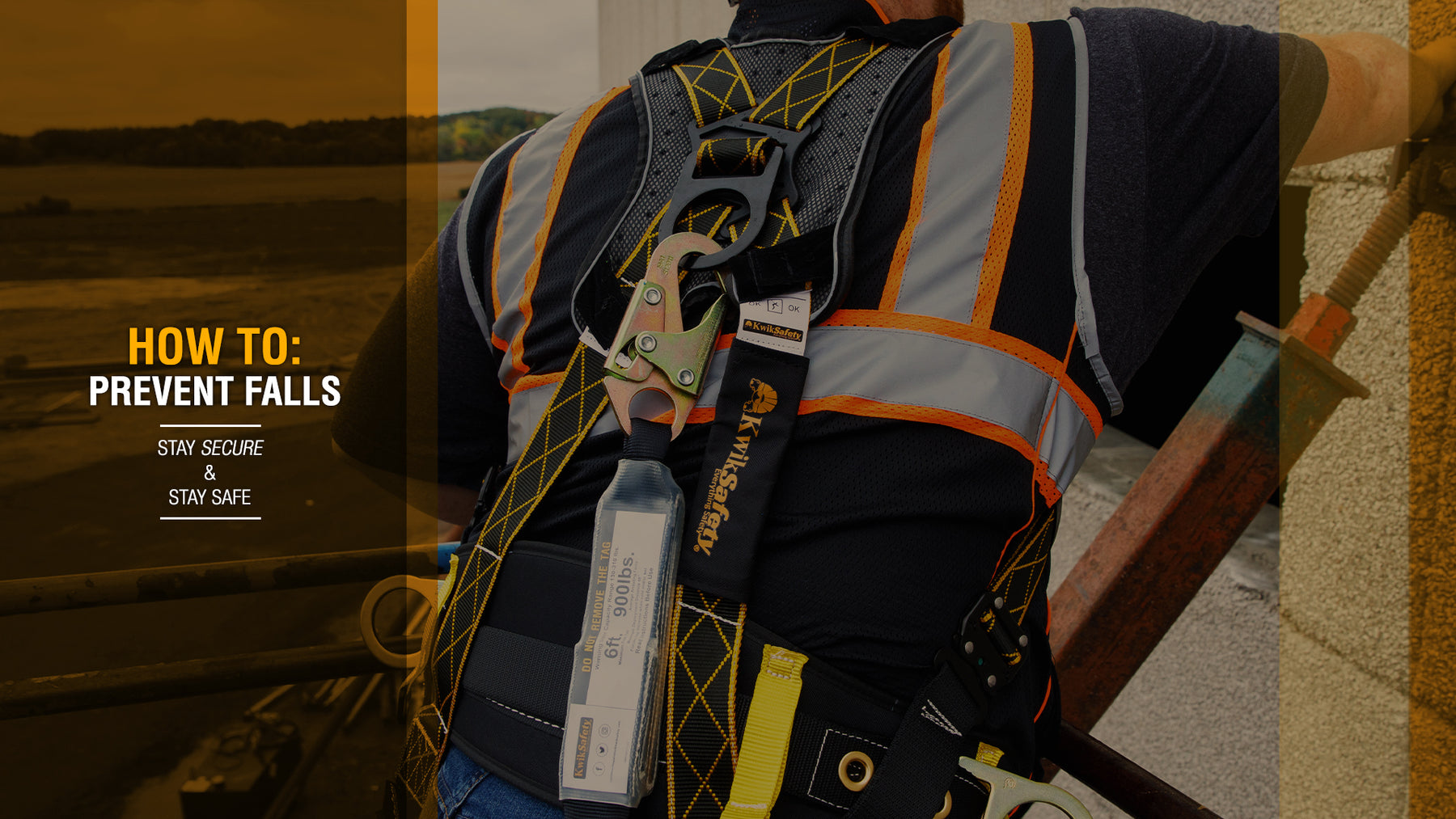 How to Prevent Falls
The construction industry is essential to our modern society, as it builds the infrastructure we rely on daily. However, it's also one of the riskiest sectors when it comes to workplace accidents, with falls being a leading cause of injuries and fatalities.
In this blog post, we will explore the importance of fall prevention in the construction industry and provide practical tips to enhance safety on construction sites.
Understanding the Issue
Falls are a significant concern in the construction industry for several reasons:
1. High Fatality Rates:
Falls consistently rank as one of the leading causes of death in the construction sector. According to the Occupational Safety and Health Administration (OSHA), falls account for a substantial portion of construction-related fatalities.
2. Injuries and Disabilities:
Falls can result in severe injuries, including broken bones, spinal cord injuries, and traumatic brain injuries. These accidents can lead to long-term disabilities and a decreased quality of life.
3. Financial Costs:
Apart from the human toll, falls also have significant financial implications. Companies may face medical expenses, worker's compensation claims, legal liabilities, and increased insurance premiums.
Preventing Falls: A Shared Responsibility
Preventing falls in the construction industry is a shared responsibility among employers, workers, and regulatory bodies like OSHA.
Below are some crucial steps to enhance fall prevention on construction sites:
Invest in comprehensive training programs that cover fall hazards, safe work practices, and the proper use of personal protective equipment (PPE). Ensure that all workers are educated about potential hazards on the job site.
Conduct thorough risk assessments before starting any construction project. Identify potential fall hazards such as unguarded edges, open floor holes, and unstable scaffolding. Develop a site-specific safety plan based on these assessments.
Provide and require the use of appropriate safety equipment, including harnesses, lanyards, guardrails, safety nets, and helmets. Ensure that all equipment is in good condition and regularly inspected.
Scaffolding is a common source of falls in construction. Erect and use scaffolds according to OSHA regulations. Inspect scaffolds daily and before each use to detect any defects or damage.

Install guardrails, toe boards, and safety barriers on elevated work surfaces to prevent workers from falling off. These physical barriers are highly effective in reducing fall risks.
Use ladders properly, following manufacturer guidelines and OSHA regulations. Ensure that ladders are the correct height for the task and set up on stable surfaces.
Conduct regular safety inspections and audits of the job site. Correct any identified hazards immediately. Encourage workers to report unsafe conditions promptly.
Establish clear communication channels for workers to report hazards and near misses. Encourage a culture of safety where workers feel comfortable speaking up about potential issues.
Develop and implement fall protection plans that outline safety procedures and emergency response protocols in the event of a fall. Ensure that workers are aware of these plans.
Regularly refresh and update worker training to reinforce safety awareness and best practices.
Preventing falls in the construction industry is a critical mission that requires the cooperation of everyone involved. Employers must prioritize safety through training, hazard assessment, and providing the necessary equipment. Workers, in turn, must follow safety protocols and communicate any concerns. By working together, we can significantly reduce the risk of falls on construction sites, saving lives and preventing injuries. Safety should always be the cornerstone of every construction project, ensuring that everyone goes home safe at the end of the day.
Follow us on social media to stay up-to-date on new products and much more!
 ______________________________________________________________________
Cómo Prevenir Caídas
La industria de la construcción es esencial para nuestra sociedad moderna, ya que construye la infraestructura en la que confiamos a diario. Sin embargo, también es uno de los sectores más riesgosos en lo que respecta a accidentes laborales, siendo las caídas una de las principales causas de lesiones y fatalidades.
En esta entrada de blog, exploraremos la importancia de la prevención de caídas en la industria de la construcción y proporcionaremos consejos prácticos para mejorar la seguridad en los sitios de construcción.
Comprendiendo el Problema
Las caídas son una preocupación significativa en la industria de la construcción por varias razones:
1. Altas tasas de mortalidad:
Las caídas consistentemente ocupan uno de los principales lugares en la lista de causas de muerte en el sector de la construcción. Según la Administración de Seguridad y Salud Ocupacional (OSHA), las caídas representan una parte sustancial de las fatalidades relacionadas con la construcción.
2. Lesiones y discapacidades:
Las caídas pueden provocar lesiones graves, como fracturas óseas, lesiones de la médula espinal y lesiones traumáticas cerebrales. Estos accidentes pueden dar lugar a discapacidades a largo plazo y a una disminución en la calidad de vida.
3. Costos financieros:
Además del costo humano, las caídas también tienen implicaciones financieras significativas. Las empresas pueden enfrentar gastos médicos, reclamaciones de compensación laboral, responsabilidades legales y primas de seguro aumentadas.
Prevenir las caídas: Una responsabilidad compartida
Prevenir las caídas en la industria de la construcción es una responsabilidad compartida entre empleadores, trabajadores y organismos reguladores como OSHA.
A continuación, se presentan algunos pasos cruciales para mejorar la prevención de caídas en los sitios de construcción:
Invierta en programas de capacitación integrales que aborden los riesgos de caídas, las prácticas de trabajo seguras y el uso adecuado del equipo de protección personal (EPP). Asegúrese de que todos los trabajadores estén informados sobre los posibles peligros en el lugar de trabajo.
Realice evaluaciones de riesgos exhaustivas antes de iniciar cualquier proyecto de construcción. Identifique posibles riesgos de caídas, como bordes sin protección, agujeros en el suelo abiertos y andamios inestables. Desarrolle un plan de seguridad específico para el sitio en función de estas evaluaciones.
Proporcione y exija el uso de equipo de seguridad adecuado, que incluya arneses, cordones de seguridad, barandillas, redes de seguridad y cascos. Asegúrese de que todo el equipo esté en buen estado y sea inspeccionado regularmente.
El andamiaje es una fuente común de caídas en la construcción. Construya y utilice andamios de acuerdo con las regulaciones de OSHA. Inspeccione los andamios a diario y antes de cada uso para detectar cualquier defecto o daño.
Instale barandillas, tablones para los pies y barreras de seguridad en las superficies de trabajo elevadas para evitar que los trabajadores caigan. Estas barreras físicas son altamente efectivas para reducir los riesgos de caídas.
Utilice las escaleras de manera adecuada, siguiendo las pautas del fabricante y las regulaciones de OSHA. Asegúrese de que las escaleras tengan la altura adecuada para la tarea y estén colocadas en superficies estables.
Realice inspecciones y auditorías de seguridad regulares en el lugar de trabajo. Corrija de inmediato cualquier peligro identificado. Anime a los trabajadores a informar de condiciones inseguras de manera pronta.
Establezca canales de comunicación claros para que los trabajadores informen sobre peligros y situaciones de riesgo inminente. Fomente una cultura de seguridad en la que los trabajadores se sientan cómodos expresando posibles problemas.
Desarrolle e implemente planes de protección contra caídas que describan procedimientos de seguridad y protocolos de respuesta de emergencia en caso de una caída. Asegúrese de que los trabajadores estén al tanto de estos planes.
Actualice periódicamente y refuerce la capacitación de los trabajadores para mantener la conciencia de seguridad y las mejores prácticas.
Prevenir caídas en la industria de la construcción es una misión crítica que requiere la cooperación de todos los involucrados. Los empleadores deben dar prioridad a la seguridad a través de la capacitación, la evaluación de riesgos y proporcionar el equipo necesario. A su vez, los trabajadores deben seguir los protocolos de seguridad y comunicar cualquier preocupación. Trabajando juntos, podemos reducir significativamente el riesgo de caídas en los sitios de construcción, salvando vidas y evitando lesiones. La seguridad siempre debe ser la piedra angular de cada proyecto de construcción, garantizando que todos regresen a casa sanos y salvos al final del día.
¡Síganos en las redes sociales para mantenerse al día con nuevos productos y mucho más!