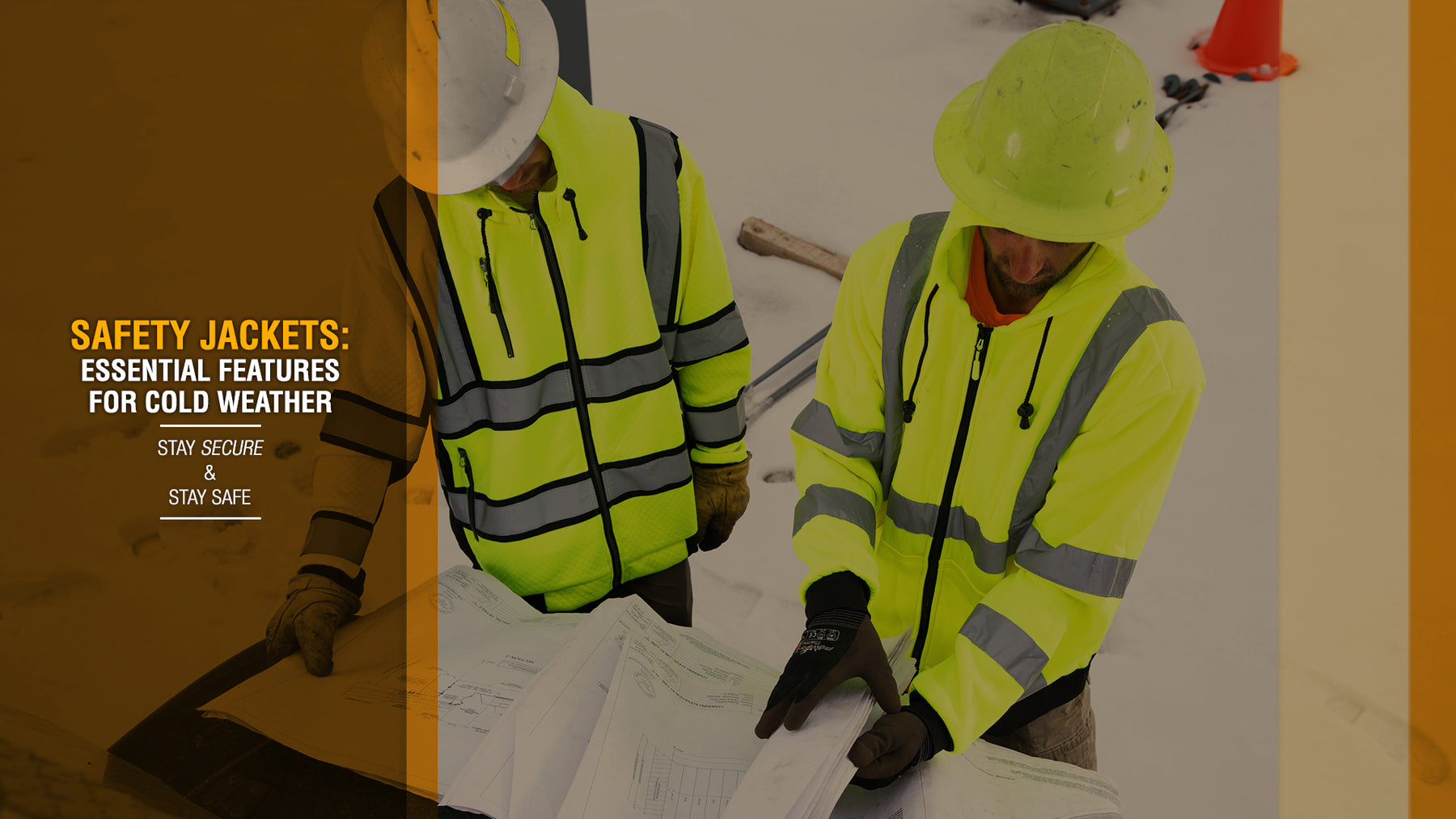 Safety Jackets: Which Features Are Essential for Cold Weather?
As the temperatures drop and the days grow shorter, it's time to gear up for the fall/winter season. If you work outdoors or enjoy outdoor activities during the colder months, safety jackets are an essential piece of clothing to keep you warm, comfortable, and, most importantly, safe.
But what features should you look for in a safety jacket to ensure it serves its purpose effectively? In this blog post, we'll explore the must-have features for safety jackets that will help you stay protected in cold weather!
Insulation
The first and most crucial feature to consider in safety jackets is insulation. Insulation provides the warmth you need to withstand freezing temperatures. Look for jackets with quality insulation materials like down, synthetic fibers, or fleece. The type of insulation you choose depends on your specific needs, but ensure it offers adequate warmth without being too bulky.

Water Resistance
The fall/winter season often means rain, snow, sleet, or a combination of all three. To stay dry and warm, your safety jacket should be water-resistant. Look for jackets with a durable water-repellent (DWR) coating to ensure that moisture beads up and rolls off the fabric instead of soaking in.

Wind Resistance
Wind can cut through even the warmest layers. A good safety jacket should be wind resistance to prevent cold air from penetrating and stealing your body heat. Look for jackets with wind resistant materials or features like adjustable cuffs and a high collar to keep drafts out.
High-Visibility
If you work in low-light conditions or plan to be outdoors during the darker winter hours, choose a safety jacket with high-visibility elements. These can include reflective strips, bright colors, or built-in LED lights to enhance your visibility to others. All KwikSafety jackets have hi-vis reflective strips!

Multiple Pockets
Having ample pockets in your safety jacket is incredibly handy. Not only can you keep your hands warm in insulated pockets, but you'll also have storage for gloves, tools, or other essentials. Look for jackets with both interior and exterior pockets for maximum utility.

Adjustable Features
The ability to adjust your jacket's fit is crucial for comfort and versatility. Look for jackets with adjustable cuffs, a drawstring hem, and a removable hood. These features allow you to fine-tune your jacket's fit to your specific needs and weather conditions.

Breathability
While warmth is essential, you don't want to overheat and sweat excessively inside your jacket. Choose a safety jacket with some level of breathability to allow moisture to escape, keeping you dry from the inside as well as the outside.

Durability
Invest in a safety jacket made from durable materials that can withstand the wear and tear of cold-weather activities. Reinforced stitching and abrasion-resistant fabric can help ensure your jacket lasts for seasons to come.
When it comes to safety jackets, selecting the right features can make all the difference in staying warm and protected during the coldest months of the year. Prioritize insulation, water resistance, wind-proofing, high-visibility, multiple pockets, adjustability, breathability, and durability when choosing your ideal safety jacket. With the right combination of features, you can enjoy the winter season to its fullest while staying safe and comfortable!
Follow us on social media to stay up-to-date on new products and much more!
 ______________________________________________________________________
Chalecos de seguridad: ¿Cuáles son las características esenciales para el clima frío?
A medida que las temperaturas descienden y los días se acortan, es hora de prepararse para la temporada de otoño/invierno. Si trabajas al aire libre o disfrutas de actividades al aire libre durante los meses más fríos, los chalecos de seguridad son una pieza esencial de ropa para mantenerte abrigado, cómodo y, lo más importante, seguro.
¿Pero qué características debes buscar en un chaleco de seguridad para asegurarte de que cumpla su función de manera efectiva? En esta entrada de blog, exploraremos las características indispensables para los chalecos de seguridad que te ayudarán a mantenerte protegido en el clima frío.
Aislamiento
La primera y más crucial característica a considerar en los chalecos de seguridad es el aislamiento. El aislamiento proporciona el calor que necesitas para resistir las temperaturas bajo cero. Busca chalecos con materiales de aislamiento de calidad, como plumón, fibras sintéticas o forro polar. El tipo de aislamiento que elijas dependerá de tus necesidades específicas, pero asegúrate de que ofrezca suficiente calor sin ser demasiado voluminoso.
Resistencia al agua
La temporada de otoño/invierno a menudo significa lluvia, nieve, aguanieve o una combinación de todas ellas. Para mantenerte seco y abrigado, tu chaleco de seguridad debe ser resistente al agua. Busca chalecos con un recubrimiento duradero repelente al agua (DWR, por sus siglas en inglés) para asegurarte de que la humedad forme gotas y se deslice por el tejido en lugar de empaparlo.
Resistencia al viento
 El viento puede atravesar incluso las capas más cálidas. Un buen chaleco de seguridad debe ser resistente al viento para evitar que el aire frío penetre y robe tu calor corporal. Busca chalecos con materiales resistentes al viento o características como puños ajustables y un cuello alto para mantener alejadas las corrientes de aire.
Alta visibilidad
Si trabajas en condiciones de poca luz o planeas estar al aire libre durante las horas más oscuras del invierno, elige un chaleco de seguridad con elementos de alta visibilidad. Estos pueden incluir tiras reflectantes, colores brillantes o luces LED incorporadas para aumentar tu visibilidad ante los demás. ¡Todos los chalecos de KwikSafety tienen tiras reflectantes de alta visibilidad!
Bolsillos múltiples
Contar con muchos bolsillos en tu chaleco de seguridad es increíblemente práctico. No solo puedes mantener tus manos calientes en bolsillos aislados, sino que también tendrás espacio para guardar guantes, herramientas u otros elementos esenciales. Busca chalecos con bolsillos tanto en el interior como en el exterior para obtener la máxima utilidad.
Características ajustables
La capacidad de ajustar el ajuste de tu chaqueta es crucial para la comodidad y versatilidad. Busca chaquetas con puños ajustables, un dobladillo con cordón y una capucha desmontable. Estas características te permiten afinar el ajuste de tu chaqueta según tus necesidades específicas y las condiciones climáticas.
Transpirabilidad
Si bien el calor es esencial, no quieres sobrecalentarte y sudar en exceso dentro de tu chaqueta. Elige un chaleco de seguridad con cierto nivel de transpirabilidad para permitir que la humedad escape, manteniéndote seco tanto por dentro como por fuera.
Durabilidad
Invierte en un chaleco de seguridad fabricado con materiales duraderos que puedan resistir el desgaste de las actividades en clima frío. Costuras reforzadas y tejido resistente a la abrasión pueden ayudar a garantizar que tu chaqueta dure durante varias temporadas.
Cuando se trata de chalecos de seguridad, elegir las características adecuadas puede marcar la diferencia para mantenerse cálido y protegido durante los meses más fríos del año. Prioriza el aislamiento, la resistencia al agua, la resistencia al viento, la alta visibilidad, los múltiples bolsillos, la capacidad de ajuste, la transpirabilidad y la durabilidad al elegir tu chaleco de seguridad ideal. Con la combinación correcta de características, puedes disfrutar al máximo de la temporada de invierno mientras te mantienes seguro y cómodo.
¡Síganos en las redes sociales para mantenerse al día con nuevos productos y mucho más!