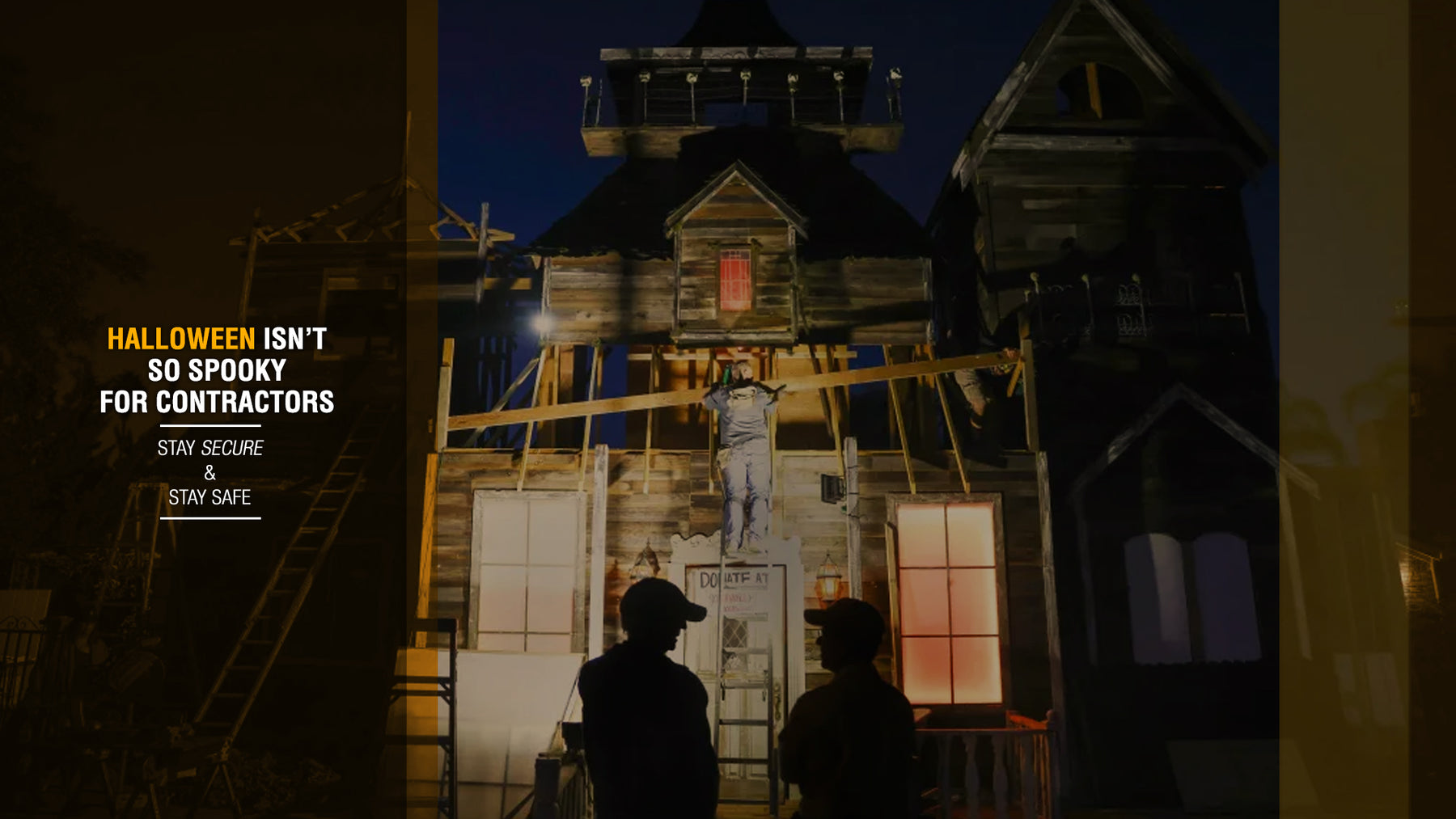 Why Halloween Isn't So Spooky for Contractors
Halloween is a holiday beloved by many, with Americans often expressing their enthusiasm for it even more than their own birthdays! While Halloween may be associated with ghosts, ghouls, and haunted houses, it might surprise you to know that this holiday is not so spooky for contractors. In fact, for professionals in the construction industry, Halloween brings a unique set of opportunities and benefits.
In this blog post, we'll explore four reasons why contractors shouldn't be spooked by Halloween.
1. A Monster-Sized Industry
Haunted houses and spooky attractions don't just magically appear; they require skilled professionals to build, maintain, and operate. The Halloween industry is massive, generating around $1 billion in revenue every year. This seasonal surge in demand means that framers, carpenters, electricians, painters, designers, and remodelers are in high demand during the Halloween season.
Interestingly, many of the entrepreneurs behind the 2,500+ Halloween-themed attractions across the country, known as "haunt-epreneurs," specialize in creating spine-chilling experiences, not just constructing buildings. This dynamic industry provides employment and financial opportunities for construction experts.
2. The Profits Are Hair-Raising
Building a "mega haunt" like the Great American Nightmare, Netherworld, or the Beast requires a significant investment, typically around $1 million. These haunted attractions draw in hordes of thrill-seekers willing to pay premium prices for a night of spine-tingling terror, with ticket prices often reaching up to $30.
Over the course of 30 to 45 days, these attractions collectively rake in an astounding $1 billion in revenue. This level of profitability makes Halloween an appealing season for contractors and builders who are involved in creating these terrifying experiences.
3. There's a Market for Haunted Homes
It's not just haunted attractions that benefit from Halloween. Some enterprising property owners have found success in turning their own homes into year-round haunted experiences.
One notable example is the owner of the "Nightmare on Grayson" haunted house in San Antonio, Texas, who moved his horrifying creation, along with a new Ouija board museum, into an apartment building he owns. His spooky venture has attracted enough thrill-seeking tenants to fill half of the 16 units under construction, proving that there's a market for haunted living spaces.
4. Ghosts Tend to Live in Fixer-Uppers
Believe it or not, haunted homes can be quite valuable in the real estate market. Dracula's Transylvania castle in Romania, the inspiration for Bram Stoker's iconic tale, is currently listed for a staggering $78 million. Despite its supernatural reputation, the condition of the castle is in disarray, showcasing the appeal of historic properties even when they come with eerie legends.
Halloween isn't so spooky for contractors; in fact, it's a season filled with unique opportunities and financial rewards. The Halloween industry is a monster-sized business that relies on skilled professionals to create spine-chilling experiences for thrill-seekers.
Additionally, the profitability of haunted attractions, the market for haunted homes, and the value of properties with supernatural histories all contribute to making Halloween a season that many in the construction industry can appreciate. So, while Halloween may be a time for scares and screams, it's also a time for builders and contractors to celebrate the unique business opportunities it brings.
Follow us on social media to stay up-to-date on new products and much more!
 ______________________________________________________________________
Por qué Halloween no es tan espeluznante para los contratistas
¡Halloween es una festividad querida por muchos, y los estadounidenses a menudo expresan su entusiasmo por ella incluso más que por sus propios cumpleaños! Aunque Halloween pueda estar asociado con fantasmas, monstruos y casas embrujadas, podría sorprenderte saber que esta festividad no es tan espeluznante para los contratistas. De hecho, para los profesionales de la industria de la construcción, Halloween trae consigo un conjunto único de oportunidades y beneficios.
En esta entrada de blog, exploraremos cuatro razones por las cuales los contratistas no deberían asustarse por Halloween.
1. Una industria de proporciones monstruosas
Las casas embrujadas y las atracciones espeluznantes no aparecen por arte de magia; requieren profesionales capacitados para construirlas, mantenerlas y operarlas. La industria de Halloween es masiva, generando alrededor de $1 mil millones en ingresos cada año. Este aumento estacional en la demanda significa que durante la temporada de Halloween, hay una gran demanda de encofradores, carpinteros, electricistas, pintores, diseñadores y remodeladores.
Curiosamente, muchos de los emprendedores detrás de las más de 2,500 atracciones temáticas de Halloween en todo el país, conocidos como "haunt-epreneurs" (emprendedores de espanto), se especializan en crear experiencias que ponen los pelos de punta, no solo en la construcción de edificios. Esta dinámica industria brinda oportunidades de empleo y financieras para expertos en la construcción.
2. Las Ganancias son Aterradoramente Altas
Construir un "mega-espanto" como el Gran Pesadilla Americano, Netherworld o la Bestia requiere una inversión significativa, generalmente alrededor de $1 millón. Estas atracciones embrujadas atraen a multitudes de buscadores de emociones dispuestos a pagar precios premium por una noche de terror escalofriante, con precios de entrada que a menudo alcanzan los $30.
A lo largo de 30 a 45 días, estas atracciones generan colectivamente asombrosos $1 mil millones en ingresos. Este nivel de rentabilidad hace que la temporada de Halloween sea atractiva para los contratistas y constructores que participan en la creación de estas aterradoras experiencias.
3. Existe un Mercado para las Casas Embrujadas
No son solo las atracciones embrujadas las que se benefician de Halloween. Algunos propietarios de propiedades emprendedores han encontrado éxito al convertir sus propias viviendas en experiencias embrujadas que funcionan durante todo el año.
Un ejemplo notable es el propietario de la casa embrujada "Nightmare on Grayson" en San Antonio, Texas, quien trasladó su aterradora creación, junto con un nuevo museo de tablero Ouija, a un edificio de apartamentos que posee. Su emprendimiento espeluznante ha atraído a suficientes inquilinos amantes de la emoción como para llenar la mitad de las 16 unidades en construcción, demostrando que existe un mercado para espacios de vida embrujados.
4. Los fantasmas tienden a vivir en casas que necesitan arreglos
Lo creas o no, las casas embrujadas pueden ser muy valiosas en el mercado inmobiliario. El castillo de Drácula en Transilvania, Rumanía, la inspiración para el icónico relato de Bram Stoker, está actualmente a la venta por la asombrosa cifra de $78 millones. A pesar de su reputación sobrenatural, la condición del castillo está en decadencia, lo que muestra el atractivo de las propiedades históricas incluso cuando vienen con leyendas inquietantes.
Halloween no es tan espeluznante para los contratistas; de hecho, es una temporada llena de oportunidades únicas y recompensas financieras. La industria de Halloween es un negocio de proporciones monstruosas que depende de profesionales capacitados para crear experiencias que ponen los pelos de punta a los buscadores de emociones.
Además, la rentabilidad de las atracciones embrujadas, el mercado de las casas embrujadas y el valor de las propiedades con historias sobrenaturales contribuyen a hacer de Halloween una temporada que muchos en la industria de la construcción pueden apreciar. Así que, aunque Halloween pueda ser un momento de sustos y gritos, también es un momento para que los constructores y contratistas celebren las oportunidades comerciales únicas que trae consigo.
¡Síganos en las redes sociales para mantenerse al día con nuevos productos y mucho más!