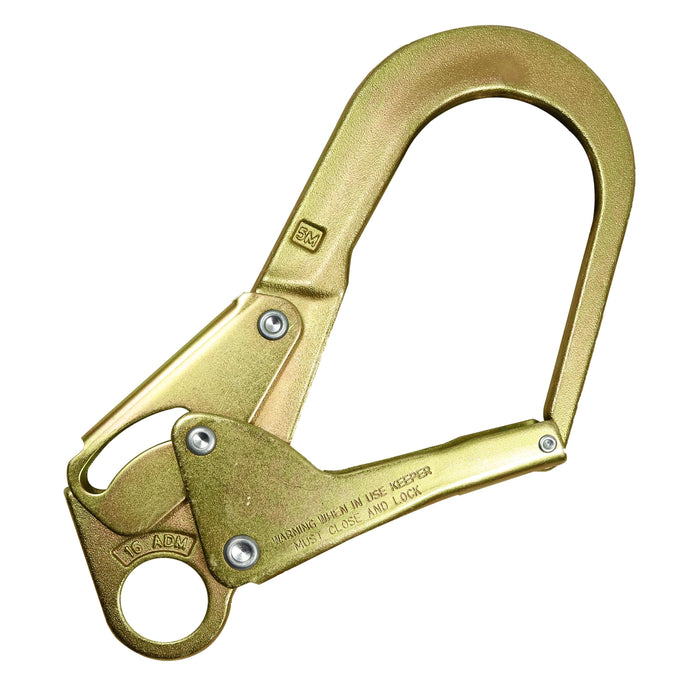 Description:
YOUR SAFETY SECURED - Our KwikSafety BOND N-3630 Rebar Hook is designed with a double locking gate and a key lock (anti-rollout) nose. Operational with a single hand, our Snap Hooks make connections easy and snag-free. Its double-action hook with a self-locking (auto-locking) gate and a captive eye helps balance loads and keep things optimally aligned. These features make it a more efficient connector for securing to anchorage and drastically reduce the chance of rollouts and cross-loading.
YOU STRUCK GOLD - Everyone enjoys a shiny new toy! So to make our KwikSafety BOND fall protection double locking anchoring hooks ready to gleam in your hands, each one goes through quality control before being sent out. This anchoring hook is made of heavy-duty forged steel that is in new and unused condition. It is clean and free of scale, rust, and deposits of foreign matter. The markings and instructions are engraved in legible English to last the life of the component being marked.
SAFETY, CERTIFIED - Our KwikSafety BOND N-3630 Gold Steel Snap Hook meets ANSI Z359.12-2009, CSA Z259.12-11, EN 362:2004 – the most accepted climbing safety standards. Our snap hooks pass all of ANSI's qualifications, such as the dynamic drop and gate face examination. These assessments are designed to ensure that our customers are getting the best quality and maximum safety for all fall protection hardware.
TOUGHER THAN IT LOOKS - The N-3630 rebar hooks are put through a number of strenuous activities to ensure that they have a minimum strength of 5,000 lbs (23kN) tensile load and 3,600 lbs (16kN) gate load without distortion or separation from the nose of the snap hook. They also undergo assessments designed to ensure durability such as the accelerated weathering and abrasion tests. However, please be sure to use our rebar hooks within OSHA guidelines to guarantee maximum safety on the job site!
MULTIPLE USES, IMMEASURABLE VALUE - Your safety is priceless; KwikSafety products are meant to enhance it. The N-3630 rebar hook is strong and ideal for any industrial or personal application. These activities include boats, camping, lifting and rigging, ratchets, parachutes, bungee jumping, PWC, suspension, construction, sailing, search and rescue, and much more! It is also great for use on adjustable flip lines, lanyards, and harnesses.