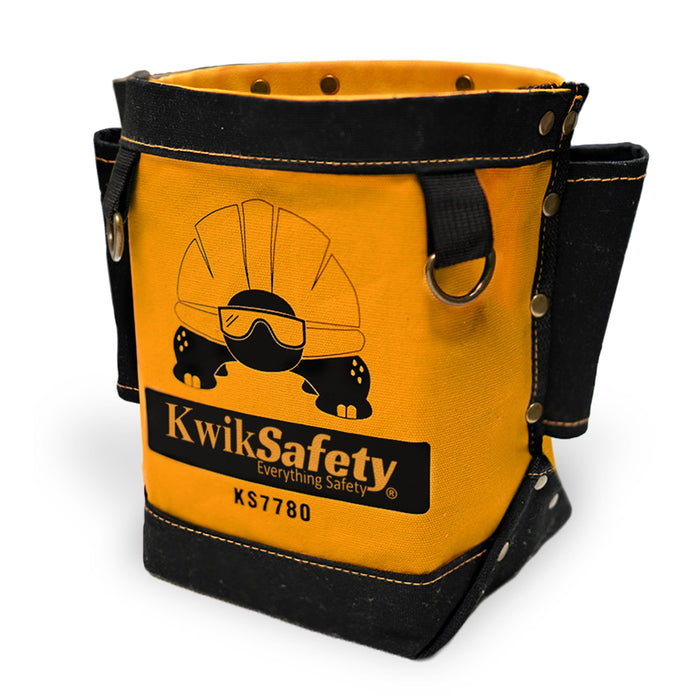 Description:
LIGHTWEIGHT CANVAS TOOL BAG - The JoeyBAG bolt bag pouch has 24 brass rivets that offer subtle style & strength for everyday DIY use! The branded gold & black canvas lineman bag offers a unique custom style & utility. This tool bag pouch is able to fit screws, pliers, nuts, bolts & more. This canvas bolt bag is NOT intended for heavy-duty ironworker use! Small bolt bag suitable for jobs where tools need to be stored and easily accessed. Lightweight alternative to klein tool bags/klein bolt bags.
PERFECT PAIR WITH TOOL BELT - Quickly and easily attach your tool bag to your safety belt or tool belt with the 4" tunnel loop connection. It is double stitched and riveted for light security. This nut & bolt bag is equipped with 2 small d-rings to connect tool tethers. Lineman tool bag with (1) tapered bull pin loop on each side belt tool pouch that double as tool holders. Carefully designed and crafted for everyday use on the back of a harness tool belt or safety tool belt.
IRONWORKER BOLT BAG & MORE - Works as a lineman bolt bag, bolt bags iron work, canvas bucket bag, ironworker tools pouch, iron worker bags, lineman pouch, and more. Small canvas tool bag that works as electrician bolt bag or tool bag. Useful bolt bags canvas for carrying tools while climbing or working on a scaffold/scaffolding. Large enough to carry multiple tools and can be used as a rodbuster pouch/pouches (not FR bolt bags). These lineman bags have dimensions of 11 x 9.6 x 2.1 inches.
EASY ACCESS TOOLS POUCH - This iron worker bolt bag provides reliable storage and easy access to your tools. The mouth of the bolt bag canvas stays open so that your tools are out of the way while working but easy to grab when you need them. This non-FR bolt bag has a reinforced bottom with light duty contrast stitching and rivets for an extra layer of style and durability. The deep, 9 inch (22.9cm) compartment that holds your tools securely. A bolt bag you can depend on!
THE SAFETY YOU NEED, THE STYLE YOU WANT - KwikSafety products are proudly designed & shipped from Charlotte, NC, USA. Our Charlotte-based team will quickly answer any and all of your questions and concerns about your order in English or Español (bolsa herramientas, bolsa de perno) KwikSafety products are premium stylish safety products designed by Americans with American Standard level of quality and trusted by many nationwide.
Kit & Combo Option Savings
COMBO (SAVE $5)
KIT (SAVE $10)
Bolt Bag +

 

Safety Belt + Positioning Safety Lanyard
 ----------------------------------------
SAFETY BELT -

 The BEAVER TAIL Safety Belt has 2 heavy duty, yellow zinc anodized side d-rings for work positioning and other specific location work such as rebar tying, tower maintenance, tree cutting, and more. Do not use for fall protection for fall arrest! The 6 inch premium nylon body pad is designed to give all day support, comfort, mobility while working hands free (and worry free!). Heavy duty polyester strap with 12 premium steel grommets and tongue buckle for quick and easy adjustment. Premium quality linemans belt that is One Size Fits Most and can fit waist sizes 39" - 58" (99cm - 147cm). The ergonomic waist pad is 29.5" long, made with sweat absorbing nylon material on the inside. This lightweight construction padded belt is a great addition to lineman/ironworker gear personal protection equipment.
POSITIONING SAFETY LANYARD -

 

This flat, single leg COPPERHEAD safety lanyard is made of 100% polyester webbing and heavy duty stitching to keep you safe on the job. Ideal positioning lanyard that goes from a 4 foot safety lanyard to a 6' lanyard with ease! This restraint lanyard is not for fall protection and does not have a shock absorber. Compatible with a safety harness or safety belt with side d-rings and is to be used as an adjustable positioning lanyard only. DO NOT use as a fall protection lanyard.