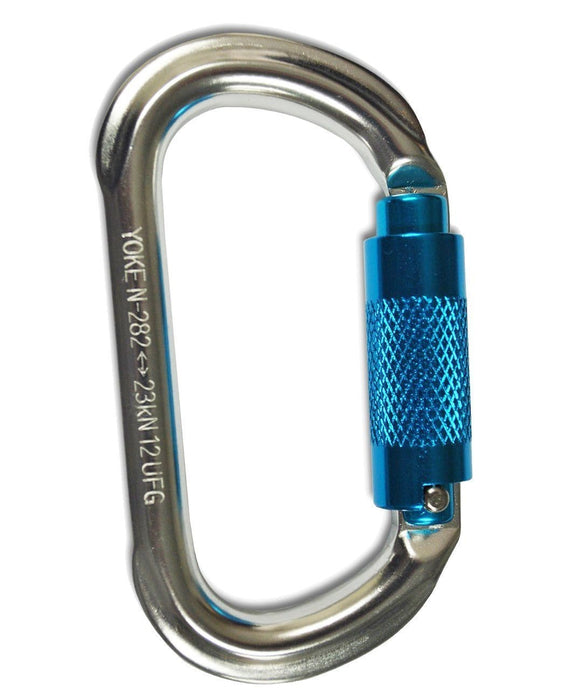 KwikSafety Yoke N-282 Twist Locking Aluminium Carabiner
KwikSafety is a pioneer in safety technology, we engineer all of our products to provide the greatest quality at a value. KwikSafety Carabiners are a basic and essential piece of equipment that you use every time you go rock climbing. A carabiner, the work horse of a climber's rack of gear, is simply a strong metal snap-link made of lightweight aluminum or hefty steel that is used to connect all the different parts of the climbing safety system together. This carabiner is high quality Aluminum Alloy. KwikSafety Carabiners have a min breaking load 5000 LBS. This carabiner meets ANSI Z359.12-09, CSA Z259.12-11, and EN 362:2004. Carabiners are built to connect things together: a climber to his or her rope, a rope to a piece of protection, a collection of protection pieces to a climbing harness. Different climbing tasks require different kinds of carabiners. Great for use in climbing, ice climbing, mountain climbing, rescue climbing, skiing, snowshoeing, snowboarding, caving, ice rescue, mountain rescue, spelunking, rapping, rappelling, cave diving, belaying, abseiling, sport climbing, football, hockey, tennis, baseball, lacrosse, track, rock climbing, winter sports, construction, cross country, soccer, hiking, camping, cycling, outdoors, zip line, adventure climbing, rock climbing.  Other programs that KwikSPACE | KwikSafety may or may not be affiliated with is (but not limited to), Small Business, Small Business Set Aside Program, Small Disadvantaged Business Certification Program, 8(a) Business Development Program, HUBZone Empowerment Contracting Program, Service-Disabled Veteran-Owned Small Business, Veteran-Owned Small Business, VOSB, Small Business Subcontracting Program, HUBZone, HUBZone Company, HUBZone credit, historically underutilized business, Section 8(a) Business Development Program, Veteran-Owned Business, Women-Owned Business, GSA, GSA advantage.
SAFETY FIRST: Our D Ring shaped Auto locking Carabiner is made of durable, lightweight aluminum alloy material. It is snag free, and doesn't damage or catch on rope, which makes it suitable for any climbing activities. This sturdy Carabiner provides maximum safety for you and your buddies.

MAXIMUM LOAD: Minimum breaking load of 5000 lbs (23kn) and gate strength of 3600 lbs. The Carabiner is designed to be compact and functional, and can be used with one hand. The secure autolock feature prevents any unwanted or unexpected detachments. Our Carabiner is hot forged for improved strength and durability over competitors.

STANDARDS: Meets CSA Z259.12, EN 362:2004, ANSI Z-359.1 and CE 0321 – the most accepted climbing safety standard. Made from high-strength aluminum magnesium alloys. Purchasing Kwiksafety products provides an excellent opportunity for government agencies to access HUBZone capabilities and receive credit in meeting their industrial supply and safety needs.

USES: 23kn load rated device will safely support your weight as well as any packs or gear you bring with you. Used for a wide range of activates such as backpacking, hiking, climbing, exploration, rapelling, rescue, engineering protection, aerial work, and more. This multifunctional carabiner can also be used to attach and carry keys, water bottles, camping gear, and hang lanterns and lights.

EXTRA DETAILS: Easily remove and insert your rope in this snag free 0.71 inch gate to keep moving quickly up the rock wall. With a weight of 3.0 oz, this Carabiner won't weigh or slow you down on your adventures!